Are you looking for basement playroom ideas to separate the kids' space from adult space? Learn how you can design a kid-friendly designated section into your basement remodeling project.
The playroom is often the last room considered when designing a home. But, if toys are taking over the house, an unfinished basement can become the perfect place for clearing your living space and moving your child's creativity while adding fun, exercise, and safety to your child's life.
The playroom should be functional and engage and inspire your children and their friends. There should be open floor space with cushioned flooring or rugs and comfy furnishings. The choice of toys and games should be interactive, and there should be a quiet nook with sensory-rich materials.
The play area should be designed to grow with the child, be gender-neutral, and include arts and crafts, building (blocks, Legos, etc.), a quiet spot for reading or napping, and physical play space. Use colors and texture to stimulate your child's desire to keep coming back.
10 Ideas for Your Basement Kids Playroom
Check out these cool design concepts to transform your basement into the ultimate dedicated playroom.
1. Create a gym play center
Brainrich Kids offers a selection of indoor gym play equipment to keep your kids active. No matter what size basement footprint you have to work with, you can choose a play center that fits.
If your basement has a ceiling or exposed rafters, adding a gym play center will provide your children with motor skill development, sensory play, and the physical exercise children need – all in the safety of your home.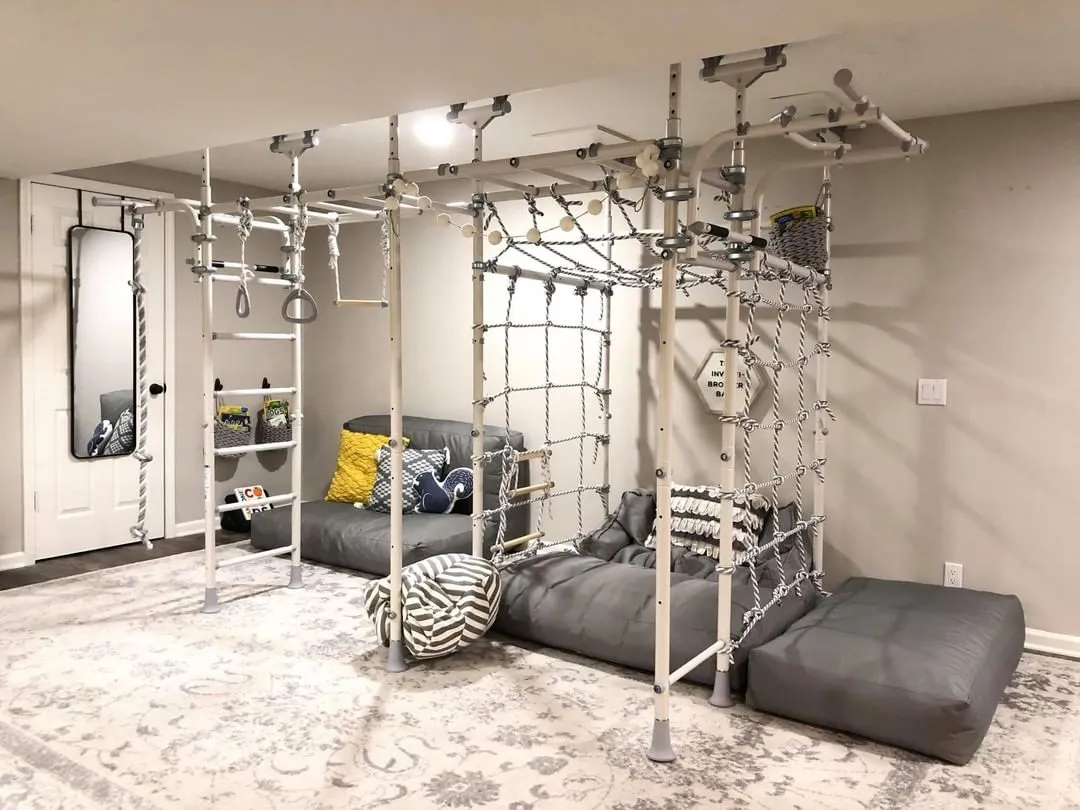 2. Design storage to fit
Creating storage for toys and games can help keep the basement play area tidy while giving children easy access to hours of fun. While playing is essential for a child's development, playtime is also an opportunity to learn to care for their toys and games.
The key is an easy-to-access toy storage space at the child's level to learn to be responsible for putting things away after play. Older children and teens can access higher storage cabinets and shelves.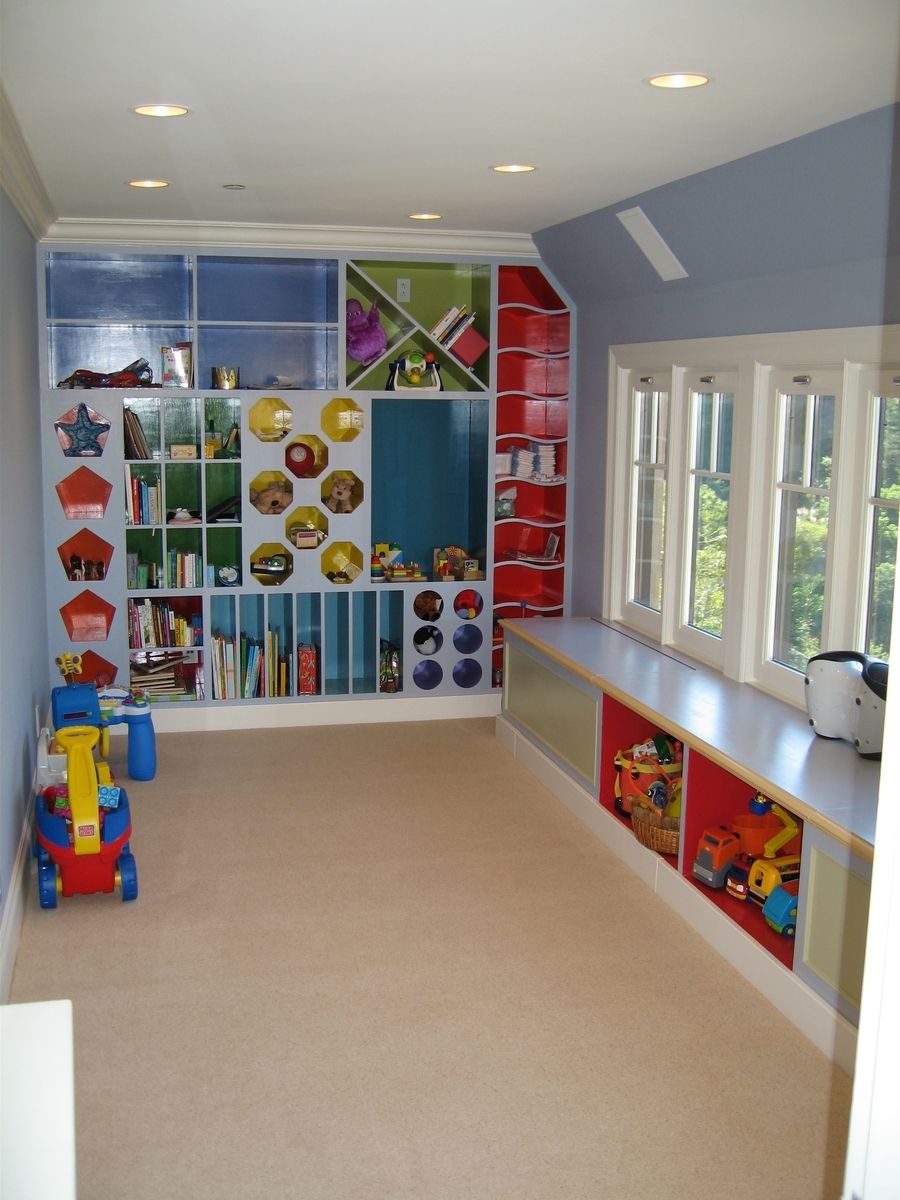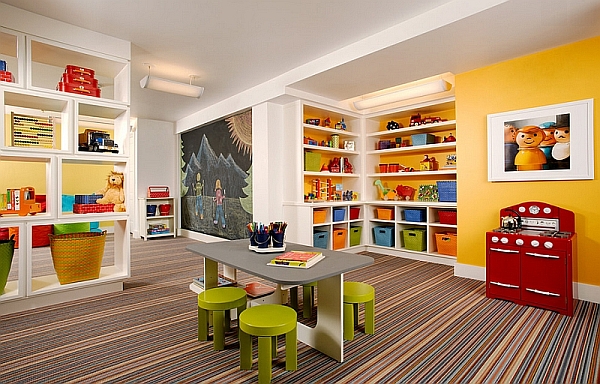 3. Incorporate color into the playroom
The use of colors can stimulate the brain and help with creativity and mood. Think of preschool and kindergarten classrooms and how bright and cheerful those appear. Colorful rugs, furnishings, paint, and artwork can add to the joyful experience your child has in the room.
Consider installing a giant blackboard (or chalkboard paint) at the child's level so they can create works of art with colored chalk. Many studies show the benefit of using primary colors to enhance a child's creative and cognitive development and mood.
4. Add a quiet space
While a playroom should contain activities to stimulate a child's mind and provide exercise, it is also important to provide quiet spaces. Kids need places that they can retreat to when they need a safe and comfortable place for themselves. Fill a small corner with comfy cushions or pillows that give the child a place to read, nap, or play a quiet game.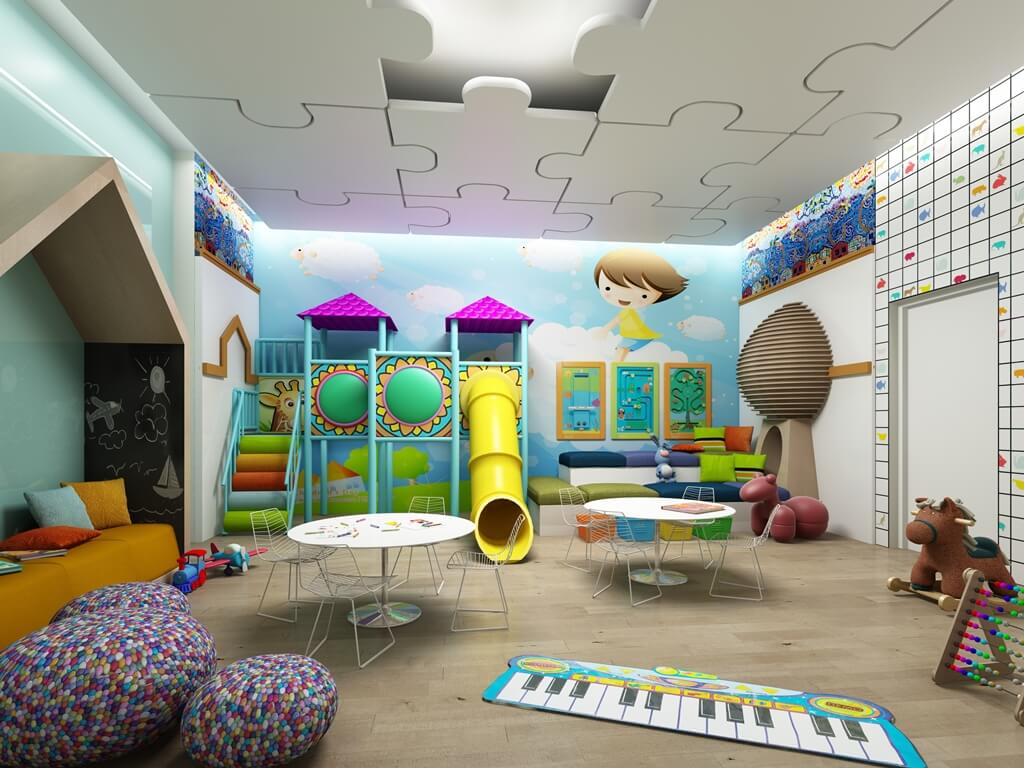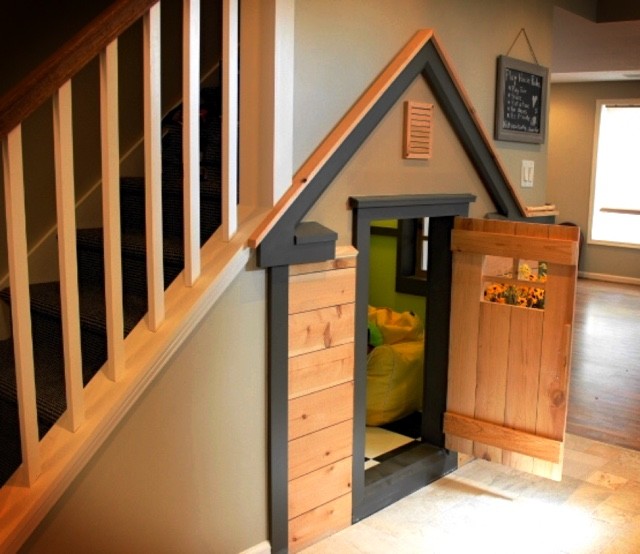 5. Kids Playroom Flooring Ideas
Unfinished basement floors can be hard and cold, making playtime uncomfortable and creating safety hazards if the child falls. Instead, create a warm and comfortable place for children to play by adding wall-to-wall carpeting, square carpet tiles, or big, fluffy washable rugs. Foam flooring in play areas is a popular choice as it is easy to clean.
Creating unique flooring designs with rug-designed games such as hopscotch, tic-tac-toe, racetracks, or other fun activities is another way to add to the fun learning zone.
6. Use kid-friendly furnishings
When creating a kids room, consider the size of furniture you place for your kids. You may be buying the furniture and toys, but the kids will be playing there and using it all, so think on their level! Many companies make furniture for kids to meet their smaller-size needs. Research to find what will work in your play space and make your child happy. Also, try to avoid furniture that may become tripping hazards.
Consider chairs and a small table for art and craft projects or eating snacks. As your child grows, this area can also become a place for homework, so consider counters or desks in your design. Comfortable overstuffed chairs or child-size sofas invite your child to relax while reading a book or watching a movie.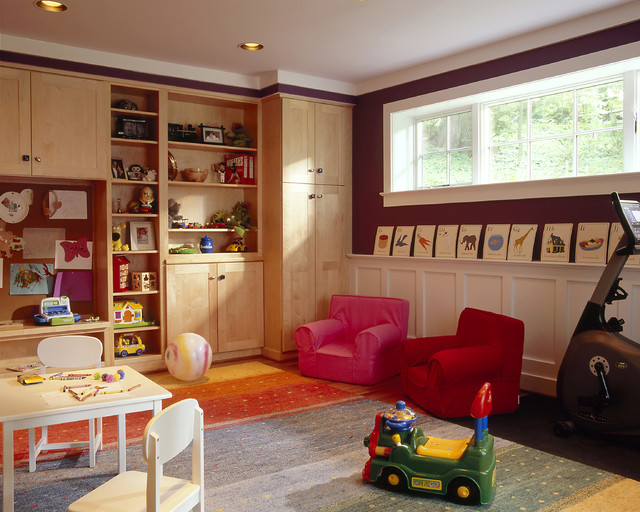 7. Use durable, washable fabrics.
Spills happen with children, no matter how careful they try to be. Buying durable furniture and washable floor coverings will help keep everything looking new. Ultra-suede material has proven to be enduring, resists stains, and is easy to wipe clean. It is known to be soft and warm, too. Other materials like vinyl or leather-look fabrics may also be easy to clean but cool against a child's skin. Adding colorful blankets and throws can be inviting for them.
8. Share the space: a basement playroom and family room combination
Toddlers and younger children still need to be in view during their playtime. Creating a shared space to fit the needs of parents and children can be accomplished! Designs offering sightlines yet providing separation between adult spaces and child spaces can satisfy all ages simultaneously.
Parents can be in an area adjacent to the playroom enjoying an adult recreation, relaxation, or workspace that blends into the basement design without compromising taste or style. Younger children feel safest when close to parents so incorporating a play kitchen near a wet bar area provides function and fusion!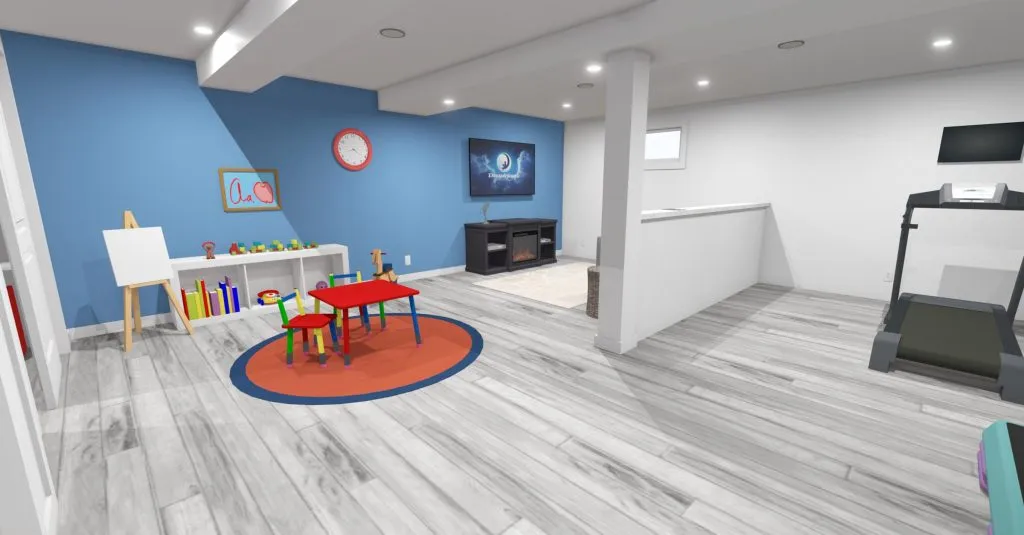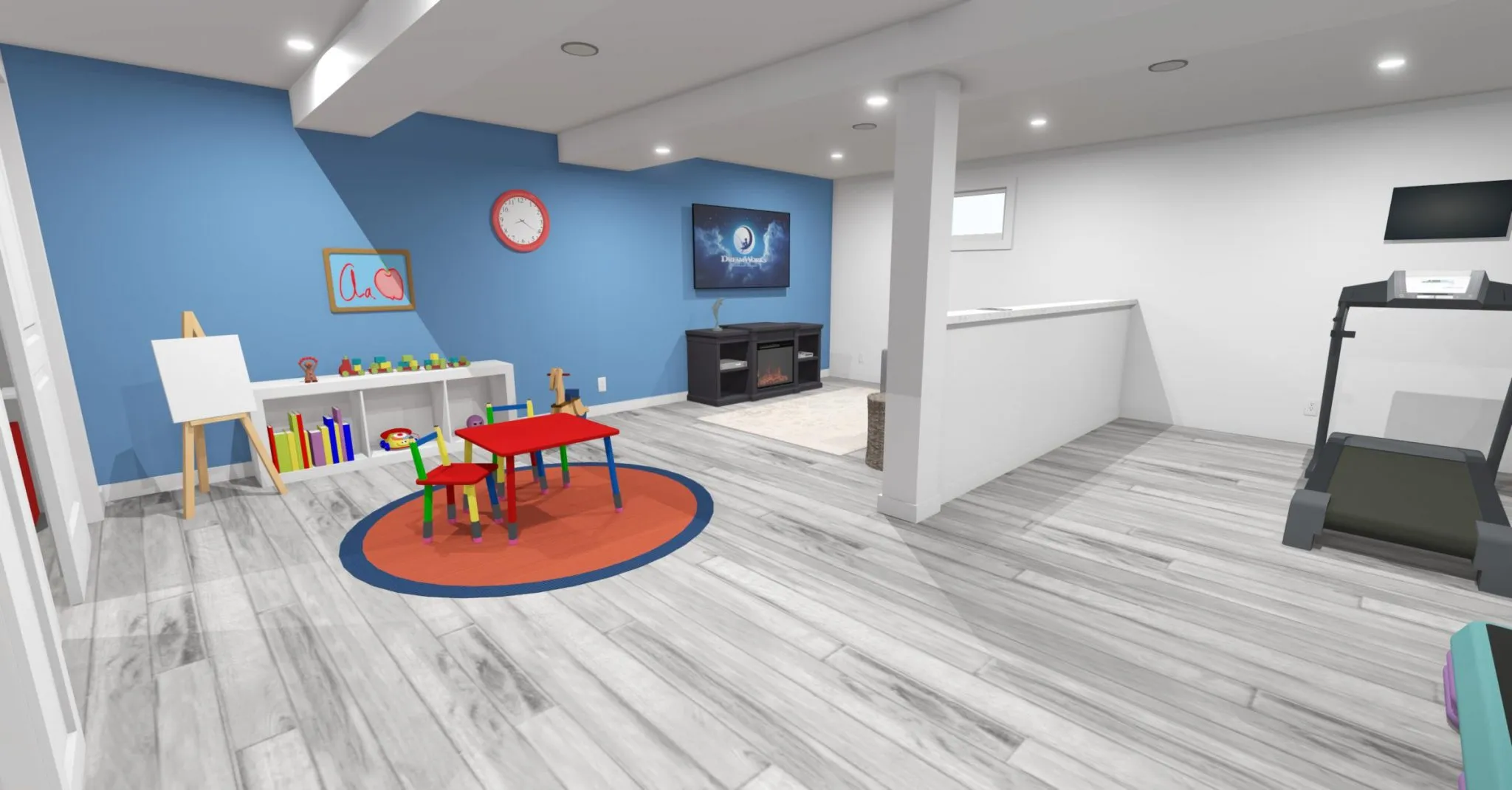 9. A basement bathroom
One should consider a powder room or bathroom in the design features when creating a toy room or playroom in the basement. A half-bath featuring a toilet and sink is a minimal upgrade, so the kids don't have to run back and forth upstairs.
A three-quarter or full bath is a good investment if you later turn the playroom into a guest room as the children grow. It is also a good idea in most basements to have a place for kids to wash their hands after doing arts and crafts projects without running upstairs and leaving handprints on the stairway.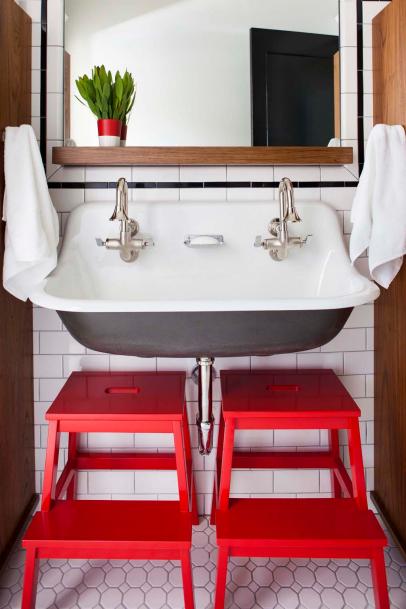 10. Creative themed designs
Among the many options available for creating a playroom in your basement are themed designs. When using themes, consider the age of your children and how many years they will enjoy the design, or if backgrounds or murals can be updated as they grow.
Children may enjoy stories that follow a theme, and you can create a playroom that allows their imaginations to flow as a part of the story. Be creative!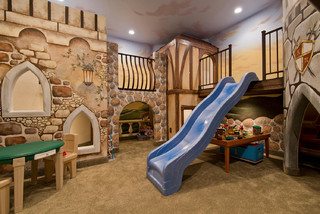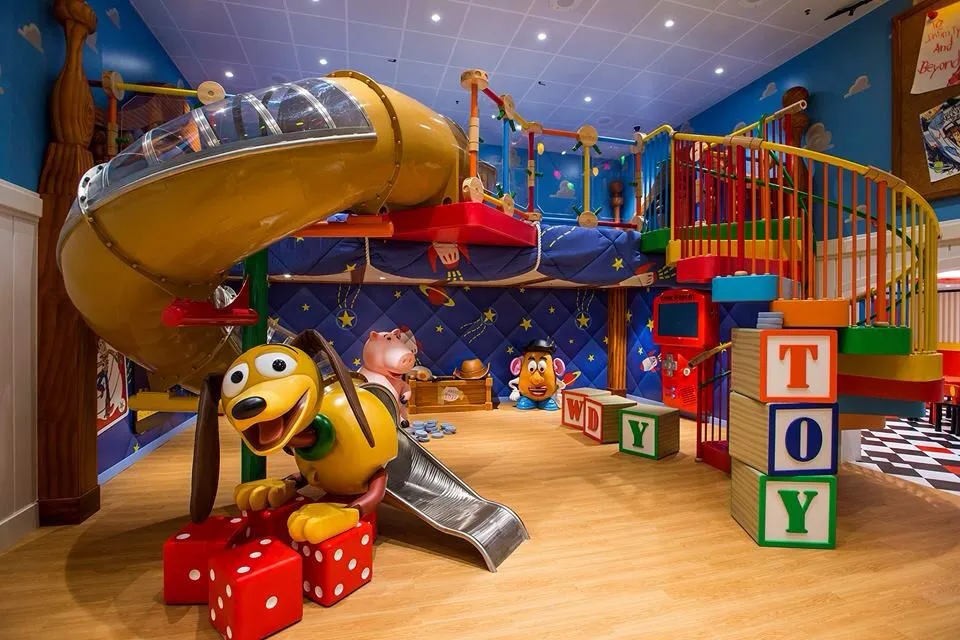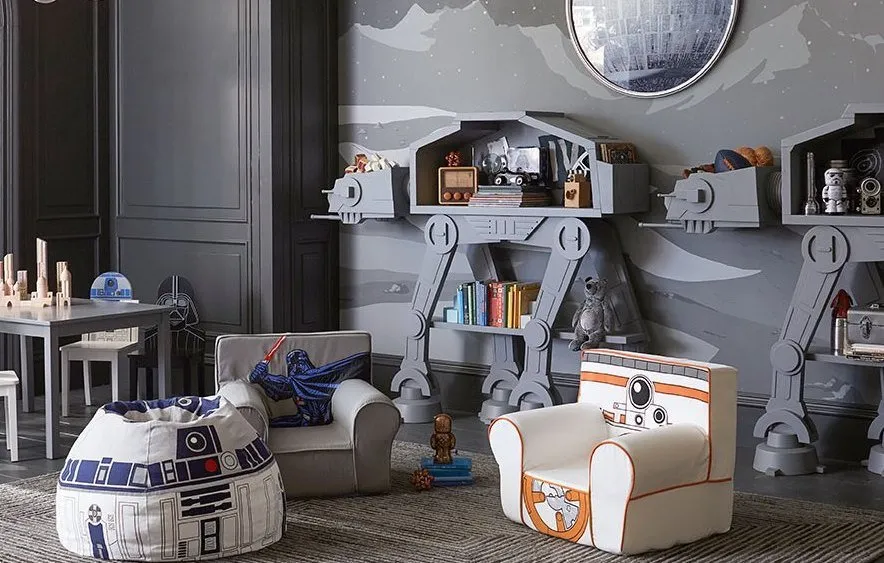 Are you ready to transform your basement into a functional kids playroom?
We hope you found these basement playroom ideas inspirational. Incorporating a playroom into your basement can be a fun and exciting project. Whether you are beginning with an unfinished basement or remodeling, planning a functional design that will grow with your family will add years of fun family time, as well as value to your home.
Consult AC Remodeling for design ideas, plans, and costs to create a safe, educational, and stimulating area that nurtures your children.