Homeowners in the NW Washington, DC area can increase their home's resale value and enjoy extra living space with custom basement remodeling ideas. 
Your basement is a blank slate, and as a homeowner in the NW Washington, DC area you can remodel your basement to fit your lifestyle. Expand your living space with a playroom for the kids, a fitness room and a sitting area with exciting home automation features. Take advantage of current basement designs and add extra conveniences like another bathroom and a laundry room to suit your needs.
The design experts at top-rated AC Remodeling will listen to your ideas and come up with custom basement remodeling designs to make your dreams a reality. Our goal is to combine your wish list with our expertise to create a better space for you and your family.
Here are some custom remodeling ideas that can give your home more room and a modern vibe.
An Inviting Place to Relax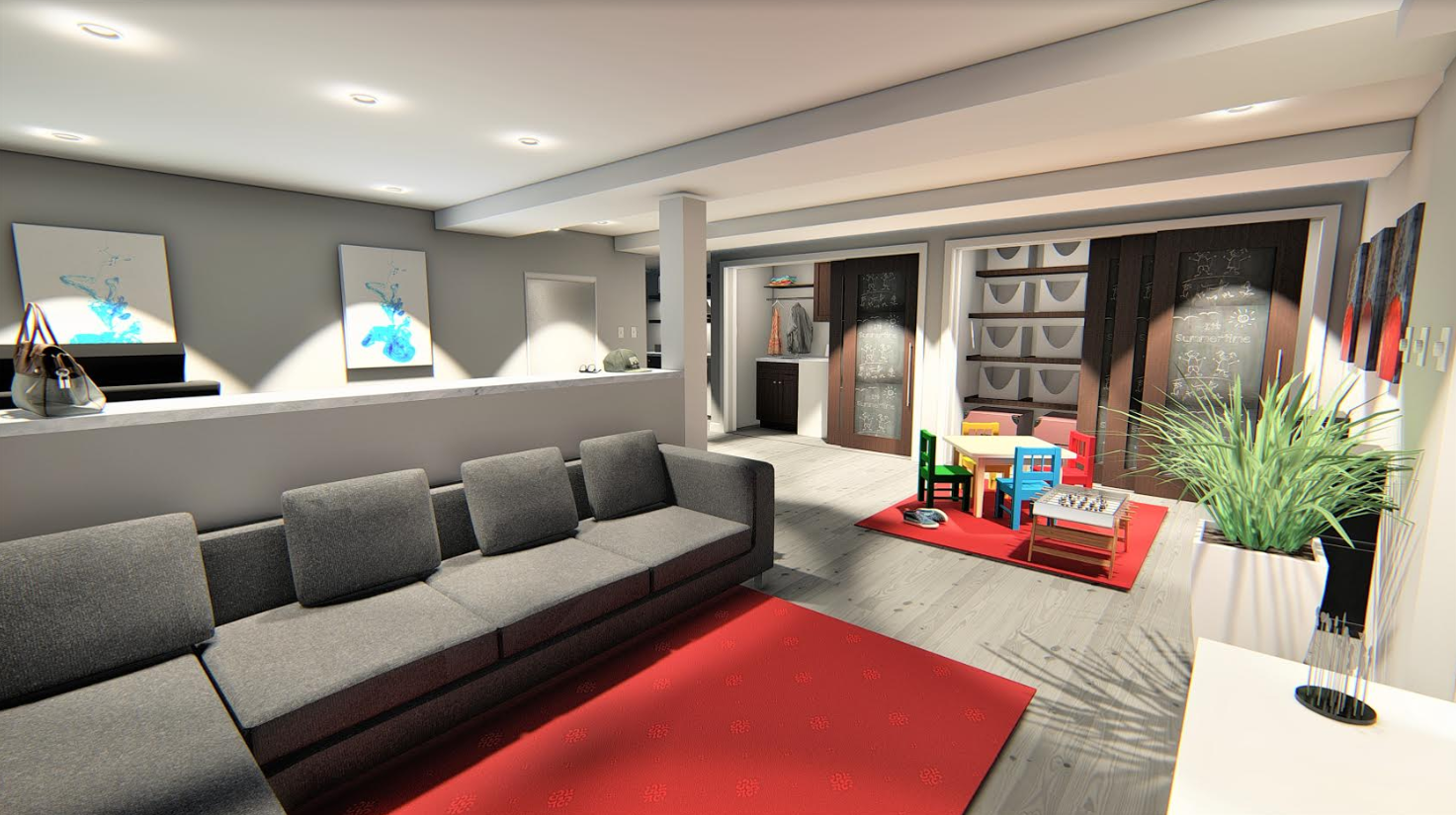 Create a bright and inviting sitting area to enjoy your free time when you remodel your basement. Your new basement sitting room is the perfect place to watch the game on Sunday and hold the monthly book club meeting away from distractions.
A built-in buffet for storage and serving along with a downsized refrigerator make this basement ideal for relaxing in a casual atmosphere.
Add a microwave, a wine cooler and a sink to set the stage for fun times with munchies and beverages to make the conversation flow.
A Private Place to Work Out
Many people are skipping the gym and choosing to work out at home these days. Your remodeled basement is the perfect spot to set up your equipment. Give your home fitness center a splash of color, proper lighting, and a mirrored wall for a professional appearance.
Make the most of your basement space by placing a treadmill at the foot of the stairs. This arrangement can work beautifully without taking space away from the basement playroom and sitting area.
A Convenient Laundry Room
Why struggle with a cramped upstairs laundry room when you can incorporate a spacious downstairs laundry room in your basement remodeling design. The sink and extra storage are welcome additions to any home.
Don't Forget the Extra Bath
It's hard to imagine a household that would not benefit from having an extra bath, especially near the playroom. You can avoid waiting for an empty upstairs bathroom in the morning and take a quick shower after your workout to start your day.
Advanced Home Automation
Be sure to integrate exciting home automation features for convenience and safeguard your family when you remodel your home. Basement home automation systems offer one-touch lighting, electronic, and climate control. Consider heated seats and self-cleaning technology with LED lighting in your new basement bath. A water-leak detector can alert you to a costly leak, and a security system can notify you if an intruder enters your property. Some automated security systems will also notify the police.
Working with AC Remodeling
A+ rated AC Remodeling serves homeowners in NW Washington, DC, Rockville, and Gaithersburg. Count on our experienced professionals to make your ideas come to life with a custom remodeled basement, kitchen, or bath. We focus on high-quality workmanship with the latest designs, materials, and technology.
---
At AC Remodeling, we make your dream project come to life stress free.
Possibilities are endless in creating the custom basement you've always wanted…
Contact us to set up your initial consultation.
240-632-1660