Are you tired of your unfinished, cluttered basement? Do you dream of a space where you can relax, entertain guests, or enjoy your hobbies? Look no further than AC Remodeling, your go-to provider of high-quality basement, award-winning basement remodeling services in Potomac, MD, and surrounding areas.
Potomac is an affluent community in Montgomery County, Maryland. It is known for its beautiful homes, tree-lined streets, and large lots. Potomac boasts several parks, including Great Falls Park, which offers scenic views of the Potomac River. Overall, Potomac is a charming and vibrant community that offers a high quality of life for its residents.
If you are lucky enough to call Potomac your home, you'll appreciate our commitment to excellence. Our team of experienced designers and builders can transform your basement into a luxurious and functional living space that meets your specific needs and tastes. From custom storage solutions to cutting-edge smart home technologies, we offer a wide range of features that will enhance your comfort, convenience, and enjoyment of your home.
Why Choose AC Remodeling for Your Basement Remodeling Project in Potomac, Maryland?
At AC Remodeling, we understand that your home is your sanctuary, and we strive to provide you with the best possible remodeling experience. When you choose us for your basement remodeling project, you can expect:
Personalized Attention:

We listen carefully to your

basement remodeling ideas

, needs, and budget to create a design that reflects your vision and suits your lifestyle. Our designers will work closely with you to choose the right materials, colors, and finishes that will bring your space to life.

High-Quality Craftsmanship:

Our builders are highly skilled and knowledgeable about the latest techniques and trends in the remodeling industry. We use only top-quality materials and equipment to ensure that your project is built to last and exceeds your expectations.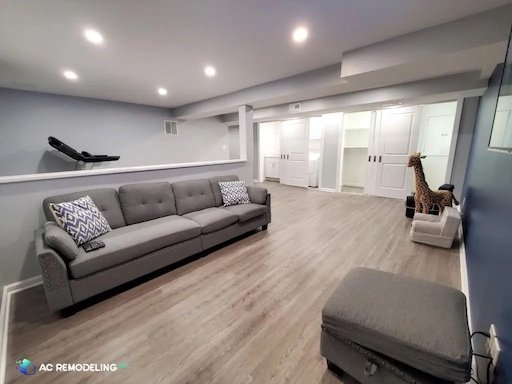 Timely and Efficient Service:

We understand that your time is valuable, and we respect your schedule and deadlines. We will work closely with you to plan and execute your project promptly and efficiently, without compromising on quality.
Honest and Transparent Pricing:

We believe in fair and upfront pricing, with no hidden fees or surprises. After we sign the Design Agreement, we will be able to provide you with a detailed scope of work.
We offer innovative solutions to create unique and functional living spaces. Our team of experts will work closely with you to understand your vision and turn it into reality. We use premium materials and modern technology to ensure that every aspect of your remodeling project is completed with precision and care. 
Finally, we are committed to providing quality service throughout the entire remodeling process. From the initial consultation to the final walk-through, our whole team of designers, builders, and project managers will ensure your basement renovation project goes smoothly and exceeds your expectations. We pride ourselves on our ability to communicate effectively with our clients, keeping you informed every step of the way.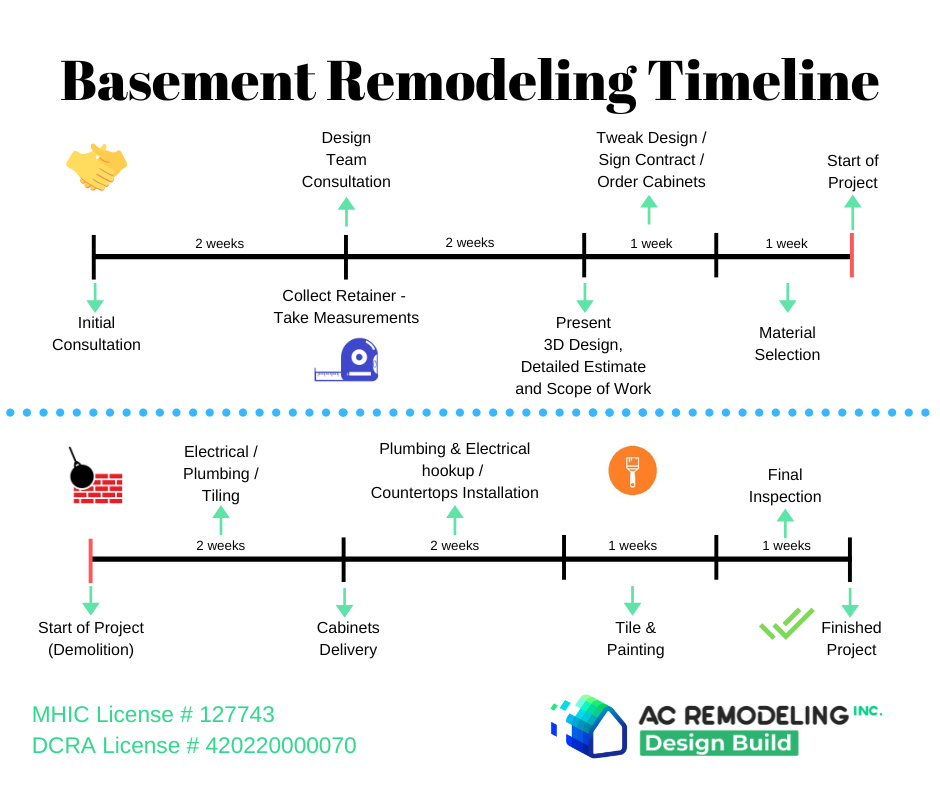 Transform Your Unfinished Basement into a Functional Space
Don't let your unfinished basement go to waste. Our team at AC Remodeling can help you turn it into a functional space that enhances your daily living experience. From adding custom cabinetry and storage solutions to incorporating smart home technologies, we can design and execute a basement renovation that suits your lifestyle and personal taste.
Features of a Superior Basement Remodeling Project in Potomac, MD
Our basement remodeling services in Potomac are designed to enhance your home's value, functionality, and style. We offer a wide range of features and options that can be customized to your specific needs and preferences.
One of the primary benefits of a basement renovation is the ability to maximize the usable square footage of your home. Our team of expert designers can help you reconfigure your basement layout to create a functional space that meets your needs, whether it's a home gym, entertainment room, or guest suite. With our basement finishing services, you'll see a significant increase in your home's overall value and functionality.
One of the standout features of a high-end basement remodel is the use of smart home automation devices. With smart devices such as ceiling-mounted speakers, automated lighting systems, and invisible wires for your TV, you can have complete control of your home at your fingertips. At AC remodeling, we understand that technology is a crucial part of modern living, and we strive to incorporate it seamlessly into all of our remodeling projects.
Another key feature of our basement remodeling services is our custom storage solutions. With cleverly designed storage areas, you can keep your space clutter-free and organized, making it easier to enjoy your newly renovated living space. Whether you need storage for sporting equipment or toys, our team will work with you to create a solution that meets your individual needs.
Finally, our team is dedicated to developing unique and custom designs tailored to your needs. Our experts will work closely with you throughout the entire process to create a design that reflects your personality and taste. A basement remodel can give you extra space that can be used for a variety of purposes, such as a home gym, a playroom for the kids, or a home office. From sleek modern designs to more traditional styles, we will work tirelessly to ensure that your finished basement reflects your personal style.
Our Basement Remodeling Process
Initial Consultation and Vision Understanding
During this stage, our team will discuss the possibilities, answer your questions, and provide professional insights to ensure we align with your vision.
Custom Design and Planning
Once we have a thorough understanding of your goals and desires, our design team will start the design and planning phase. Our designers will create detailed floor plans, 3D renderings, and material selections to help you visualize the transformation. We collaborate closely with you, considering your input and preferences, to ensure that the design aligns perfectly with your vision and lifestyle.
Quality Materials Selection
Our team will guide you in selecting the best materials that match your aesthetic preferences, budget, and functional requirements. We work with trusted suppliers to source premium materials, ensuring durability, longevity, and an impressive finish. 
Skilled Installation and Remodeling Services
We take pride in our attention to detail, ensuring precise measurements, proper installation techniques, and meticulous finishes. Throughout the construction phase of your basement remodel, we ensure open lines of communication to keep you informed about the progress and promptly address any inquiries or issues that may arise.
Final Touches and Inspection
Before presenting you with the finished space, we conduct a comprehensive inspection to ensure that every element meets our rigorous quality standards. Our attention to detail during this phase ensures that your remodeled basement is flawless and ready for you to enjoy.
Unveiling Your Transformed Basement
Once our team has completed the final touches and conducted a thorough inspection, it's time to unveil your transformed basement. We want you to walk into your remodeled basement and experience the joy, excitement, and satisfaction of seeing your vision come to life.
Investing in Basement Remodeling in Potomac, MD Can Yield Significant Returns for Homeowners
Investing in your home through a basement remodel is a smart choice for homeowners in Potomac, Maryland. Not only does it add value to your property, but it also creates additional living space for your family to enjoy. Whether you have a growing family or simply need more space, a finished basement can be the perfect solution.
At AC Remodeling, we understand that a basement remodel can be a significant investment. That's why we offer competitive pricing, ensuring that your project is completed within your budget. If you are looking for inspiration for your basement remodel, our team of experts is ready to help you with the latest basement remodeling tips and create a space that perfectly suits you.
Laura Jackel
January 28, 2023.
AC Remodeling remodeled our master bathroom and we love it. They remodeled our basement in 2020 and we loved it so much, we chose them again. Their work is always thorough, clean, and they work with you closely. Alex shows up every day to verify things with the crew and encourages us to ask questions and communicate with the crew as Well. That is one of the things that impresses me the most. Alex always shows up and is heavily involved whether they are remodeling an entire basement or a master bath. I love our master bath now. It is not a standard bathroom layout, but now we have a much larger and comfortable counter for both of us, the tiled niche is lovely, and a beautiful shower. We have a small toilet shower room, so the pocket door is great to increase the space, and the tile work is a 10. I am picky and I enjoy seeing it every day. To me, if a new remodel feels like home within a few days, I will go back to this company again.
debbie rorabaugh
December 18, 2022.
The owner of this company, Alex and his wife, are very involved in the total process of the renovations we had done at our house. Alex we always available to answer any questions. He guided us through the selection process of the finishes and helped us create the kitchen we desired. He did such a good job we called him back a few years later and worked with him to redo our master bathroom. It has been a pleasure to work with this company. They are quality and stand behind their work. We are 10 years into our kitchen renovation and still very pleased with the outcome.
Peter Klover
May 18, 2022.
From our first meeting/consultation to the completion of our basement remodel, Alex, Carolina and the team at AC Remodeling took the time to listen to our thoughts and present us with a design, now finished, that we are incredibly happy with! Ours was a tricky space to work with, but the resulting remodel is a wonderful refresh to the dark, dank space it was. They and their work crew were always professional and insistent on using quality materials. Even after completing the remodel, Alex and his team promptly answered our calls and follow up questions. We will gladly hire them again for future renovations. Thanks Alex and team!
Bret Sellman
March 25, 2022.
We couldn't be more happy with our experience working with Alex, Carolina and their team. We have had many contractors complete numerous projects on this and other houses, but working with the AC Remodeling team has been the best, hands down. Everything, from the design work to their simplified process for selecting cabinets, appliances and tile to their top quality craftsmanship. But, the best part of all was the people. The entire crew are true professionals. They always respected our house and our space and cleaned up before they left each evening. We really enjoyed working with them and chatting with them in the morning before they started and every evening to see what they accomplished that day. We will definitely work with AC Remodeling in the future and would recommend them for any remodeling job without reservations.
Michelle Olenoski
February 6, 2022.
AC Remodeling renovated my basement and a bathroom. Alex and Carolina and their team were great to work with throughout the entire process, ensuring I was satisfied. I was picky at times with my selections (I wanted marble in a basement bathroom for example!) -- and Alex was flexible to accommodate and make sure everything matched well and was completed with quality. I would definitely work with them again and recommend!
Stephanie Murphy
October 29, 2021.
Alex, Melissa, Carolina and the entire team were wonderful to work with from the beginning. They understood the family challenges, listened to what we needed and worked through each step with us. We ended up with a beautiful, new bathroom, repaired kitchen and all new plumbing. The entire team was so thoughtful and considerate about our space. Can not recommend more highly.
Eden Durbin
July 13, 2021.
AC Remodeling was the best thing that ever happened to us. We will never do another home project without them. They were clear, responsive, caring, knowledgeable, and always on time and on budget. They listened to us, help guide the way to make the right decisions, checked in on us regurlarly, and did beautiful work. We recommend them to all of our family and friends. You cannot go wrong with AC Remodeling.
Mary Anne Knutson
November 23, 2020.
2020 Update: I have since used Alex for another bathroom and a complete kitchen remodel, and he is as perfect as ever! We actually left the house for six weeks while he was doing the kitchen, to make it easier for me, and him. I didn't lose a wink of sleep over not being there. I can't imagine having any work done without Alex. I've also had smaller projects, painting, half bath, and front door. I highly recommend Alex, Carolina, and their team. They are expertly skilled, detail oriented, and so very careful with your home and your project. The pricing and project plan are clear and detailed, the team is proficient, polite, and extremely skilled, and from top to bottom they are committed to making you happy. My bathroom is spectacular and the entire process was pleasant. My project was a major overhaul of an onsuite master bath for me. Actually it was a tiny walkin closet and a tiny bathroom. We combined them into a larger bathroom with a dressing area. From the beginning Alex is clear, concise, and very knowledgeable. He lays out the project for you and gives you info on choices you have to make. He accompanied us to look at tile and fixtures and explained the pros and cons of the ones we were considering. He ordered, picked up and delivered everything. I mean everything. Tile. Fixtures. Rags. Garbage bags. Lumber. Door. Bottled water for his team! The project started very quickly. Throughout the project, the carpet and stairs were covered, even when the workers were gone for the day. When they were there, additional tarps were laid down. Every night the area was cleaned and packed up, the garbage was removed, etc. There was even a pole system tarp blocking off the area so dirt and debris were contained. There were 'challenges' in my project as there always are. The subfloor was mush and had to be replaced, as did the bottom of a few studs. Alex again showed me the issues, clearly laid out the options, but let me choose. I have heard horror stories of missing contractors, long delays, shoddy work. So I chose AC for two reasons, the 5 star rating and a photo of one of his projects that I loved the wood look tile on. So I feel happy and proud to add my own 5 star to the reviews.
We have been using AC remodeling since 2012 when they renovated our kitchen. That experience was so good, we've used them to renovate 2 baths, a french door, and numerous painting and fix-it jobs. Alex and his crew are extremely talented, do excellent work, always clean and tidy and within budget. We give them our highest endorsement. Truly, you cannot find a better contractor.
Jennifer C
March 9, 2020.
AC Remodeling just recently finished remodeling my master bath, and I am so happy with how it turned out! I had a vision, but needed help with selecting finishes. Alex and Carolina are wonderful to work with, and will guide you every step of the way (if that's what you want). I would not hesitate to recommend AC Remodeling to anyone wanting to remodel a bathroom. I am also dreaming of a kitchen remodel one day, and I know the first place I will call!
Customized Home Improvement Projects in Potomac, MD
In addition to basement renovations, AC Remodeling also specializes in a variety of home improvement projects, including bathroom remodeling and floor tile installations. Our skilled team can help you transform your home with tailored solutions that meet your unique needs and preferences. Whether it's updating your bathroom with a modern, spa-like design or installing stylish floor tiles to enhance your basement's aesthetic, our home remodeling services have you covered.
A basement remodel is an excellent investment for homeowners in Potomac, Maryland. AC Remodeling guarantees that your project will be executed with meticulous attention to detail, giving you peace of mind. As a fully licensed and insured basement remodeling contractor, we take pride in our ability to deliver exceptional results. Take the first step towards your dream basement and contact us today to schedule a design consultation with our expert team!
Send us an email or request a consultation with your local Potomac, MD home remodeling experts today.
Ready to take the first step in transforming your basement into something fabulous?
Our Potomac Home Remodeling Services
Whether you want to upgrade one space or multiple, we can provide home remodeling services to exceed all of your expectations.
Choosing the correct kitchen remodeling contractor in is important. Our staff has the knowledge, experience, and equipment to exceed your expectations!
Hundreds of Potomac, MD homeowners have entrusted AC Remodeling with bathroom renovating tasks ranging from half baths to master bathrooms.
Basement Remodeling
Do you want to convert your Montgomery County, Maryland basement into a beautiful and useful area? Perhaps you yearn for a comfy family room, playroom for the kids, or an adult entertainment space.
You can save time and energy by integrating smart home automation into your home. AC Remodeling has the knowledge you need to stay up-to-date on the latest technology.