Remodeling your basement is an excellent way to maximize the square footage in your home and create extra space for you and your family. However, a basement remodel is a significant project, and the planning process can be overwhelming for some homeowners. Additionally, the quality of the work will determine the final result, so choosing an expert remodeling company is essential to ensuring a successful outcome.
Expert Basement Remodeling Rockville, MD
If you want to turn the basement in your Rockville home into a comfortable living space or game room, call AC Remodeling at (240) 632-1660 to schedule your design consultation for your basement remodeling in Rockville, MD, today.
AC Remodeling is the premier basement remodeling company in Rockville, MD. Our team of expert contractors has experience completing hundreds of basement refinishing projects in the area, and we proudly offer premier remodeling services to Maryland residents. Whenever you are looking for basement remodeling contractors, you can always turn to AC Remodeling for trusted and expert service.
What Does It Mean To Refinish Your Basement
A basement refinish is a remodeling project that can turn the unused space in your basement into a usable room for you and your household. While these projects involve a significant amount of planning and labor, the results can be genuinely stunning. You have complete control over the design and style of the room, and when your basement remodeling project is complete, you'll have a beautiful new space in your home.
Many homeowners choose to use their newly finished basement as additional living space or bedroom, the options are nearly endless. For example, finished basements can hold toys and games to serve as excellent playrooms for young children, or you can put in a ping-pong or pool table to create a game room for the whole family. Using your basement as a movie theater is another exciting idea to keep in mind.
No matter your goals for your basement remodel, AC Remodeling can help you reach them. We provide our clients with consistent support throughout the planning and installation process, ensuring the result is just as you envisioned it.
Why Choose Us as your Rockville Basement Remodeling Contractor
Renovation projects can be a stressful process - working with our professional designers and home remodeling contractors transforms the process into an exciting journey.
Clean and transparent home remodeling services - you'll never feel like you're "getting the runaround" with AC Remodeling because your project manager keeps you informed along the way.
Locally owned and operated family business - We live and work in your community and promise to always treat your home as if it were our own. Our devotion to quality is never compromised.
Concierge home remodeling process - By combining personal style, functionality, and quality work in all of our designs and guiding you throughout the process you'll be extremely satisfied with the results.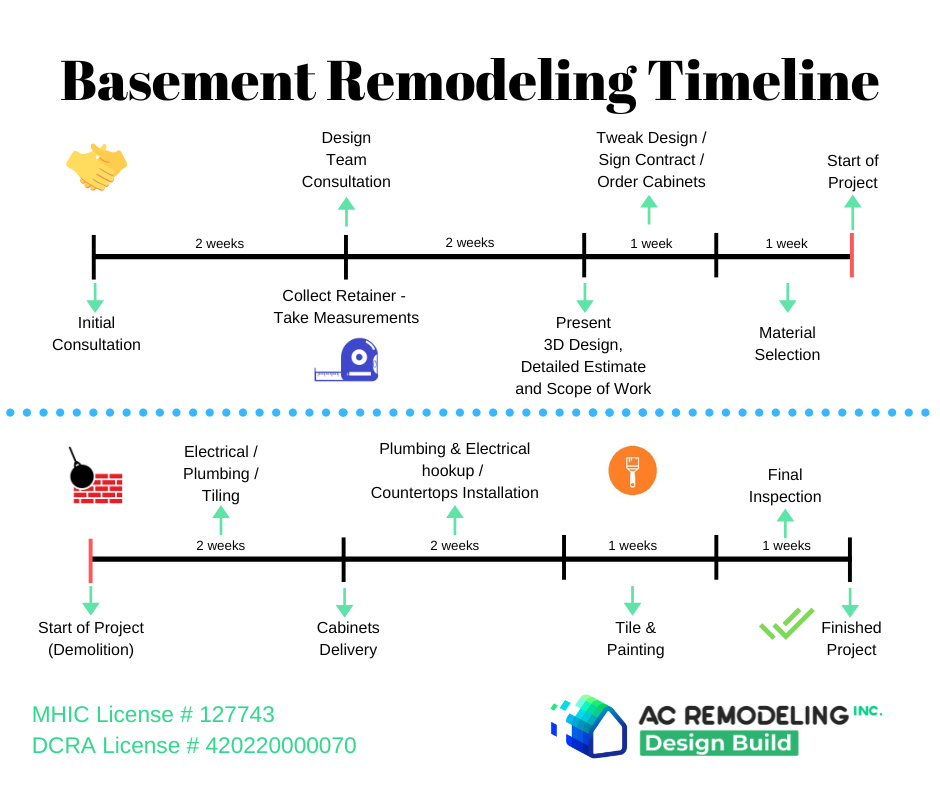 Our Maryland Basement Remodeling Process
In-Home Consultation
After learning about your style, wish list, and budget on a phone call we can offer an in-home consultation where we will inspect the basement and provide a ballpark estimate.
Basement Design and Contract Approval
Once we have decided we are a good fit for each other and the initial design retainer has been collected the design process begins. Starting with a design consultation and ending with advanced 3D renderings showing you exactly what your new Rockville, MD basement could look like.
Meet Suppliers and Order Materials
For most of our customers, this is often the part of the bathroom remodeling process that can cause the most anxiety. Don't worry, we've made this easy, stress-free, and exciting! Your project manager or design lead will set up appointments with suppliers and join you to help select your lighting, flooring, and other materials.
Construction
If your basement is already partially finished we will still start with a complete gut of the space. We start every project with a blank canvas to ensure your new basement is built with the highest standards and safety. This may even include new electrical wiring, plumbing, water-proofing, and insulation.
Final Inspection
The last phase is the final inspection. Our superior commitment to quality and perfection requires us to make sure every detail of your basement has been completed correctly and installed properly.
Your new basement is closer than you think!
What's Involved with a Basement Remodeling Rockville MD
If you're planning basement remodeling in Rockville, MD, there are multiple factors to consider. First, to turn your basement into a liveable area, you must comply with safety regulations. In most cases, this means having an egress window, which means you may need to install or expand a window in your basement before beginning the project.
Once the space is up to code, there are still a few things to do to ensure the area is safe and comfortable. First, most basements have significantly less insulation than the rest of the home, so enhancing the insulation is essential to a remodeling project. Next, water-proofing the space is necessary to maintain safety and protect your project investment.
Once that's done, you'll need to decide how you want the floors and walls to look, including choosing between carpet and hardwood flooring for the new room. It's crucial to consider your intended use for the space. For example, a stunning gray hardwood floor can perfectly complement a modern game room, but a softer carpet is ideal for a children's play area.
Finally, once the construction is complete, you'll need to choose the decor and furniture for the space. During this step, homeowners can express their sense of style by designing the ideal space for them and their homes. Decorating is the fun part, so don't be afraid to get creative when choosing the decor.
When you hire AC Remodeling to refinish your basement, we handle every step of the entire process from start to finish. We understand that these projects can be stressful, so we strive to simplify every aspect of the remodel for our clients. Choosing AC Remodeling basement remodeling services will allow you to sit back and relax while we build your dream basement
Laura Jackel
January 28, 2023.
AC Remodeling remodeled our master bathroom and we love it. They remodeled our basement in 2020 and we loved it so much, we chose them again. Their work is always thorough, clean, and they work with you closely. Alex shows up every day to verify things with the crew and encourages us to ask questions and communicate with the crew as Well. That is one of the things that impresses me the most. Alex always shows up and is heavily involved whether they are remodeling an entire basement or a master bath. I love our master bath now. It is not a standard bathroom layout, but now we have a much larger and comfortable counter for both of us, the tiled niche is lovely, and a beautiful shower. We have a small toilet shower room, so the pocket door is great to increase the space, and the tile work is a 10. I am picky and I enjoy seeing it every day. To me, if a new remodel feels like home within a few days, I will go back to this company again.
debbie rorabaugh
December 18, 2022.
The owner of this company, Alex and his wife, are very involved in the total process of the renovations we had done at our house. Alex we always available to answer any questions. He guided us through the selection process of the finishes and helped us create the kitchen we desired. He did such a good job we called him back a few years later and worked with him to redo our master bathroom. It has been a pleasure to work with this company. They are quality and stand behind their work. We are 10 years into our kitchen renovation and still very pleased with the outcome.
Peter Klover
May 18, 2022.
From our first meeting/consultation to the completion of our basement remodel, Alex, Carolina and the team at AC Remodeling took the time to listen to our thoughts and present us with a design, now finished, that we are incredibly happy with! Ours was a tricky space to work with, but the resulting remodel is a wonderful refresh to the dark, dank space it was. They and their work crew were always professional and insistent on using quality materials. Even after completing the remodel, Alex and his team promptly answered our calls and follow up questions. We will gladly hire them again for future renovations. Thanks Alex and team!
Bret Sellman
March 25, 2022.
We couldn't be more happy with our experience working with Alex, Carolina and their team. We have had many contractors complete numerous projects on this and other houses, but working with the AC Remodeling team has been the best, hands down. Everything, from the design work to their simplified process for selecting cabinets, appliances and tile to their top quality craftsmanship. But, the best part of all was the people. The entire crew are true professionals. They always respected our house and our space and cleaned up before they left each evening. We really enjoyed working with them and chatting with them in the morning before they started and every evening to see what they accomplished that day. We will definitely work with AC Remodeling in the future and would recommend them for any remodeling job without reservations.
Michelle Olenoski
February 6, 2022.
AC Remodeling renovated my basement and a bathroom. Alex and Carolina and their team were great to work with throughout the entire process, ensuring I was satisfied. I was picky at times with my selections (I wanted marble in a basement bathroom for example!) -- and Alex was flexible to accommodate and make sure everything matched well and was completed with quality. I would definitely work with them again and recommend!
Stephanie Murphy
October 29, 2021.
Alex, Melissa, Carolina and the entire team were wonderful to work with from the beginning. They understood the family challenges, listened to what we needed and worked through each step with us. We ended up with a beautiful, new bathroom, repaired kitchen and all new plumbing. The entire team was so thoughtful and considerate about our space. Can not recommend more highly.
Eden Durbin
July 13, 2021.
AC Remodeling was the best thing that ever happened to us. We will never do another home project without them. They were clear, responsive, caring, knowledgeable, and always on time and on budget. They listened to us, help guide the way to make the right decisions, checked in on us regurlarly, and did beautiful work. We recommend them to all of our family and friends. You cannot go wrong with AC Remodeling.
Mary Anne Knutson
November 23, 2020.
2020 Update: I have since used Alex for another bathroom and a complete kitchen remodel, and he is as perfect as ever! We actually left the house for six weeks while he was doing the kitchen, to make it easier for me, and him. I didn't lose a wink of sleep over not being there. I can't imagine having any work done without Alex. I've also had smaller projects, painting, half bath, and front door. I highly recommend Alex, Carolina, and their team. They are expertly skilled, detail oriented, and so very careful with your home and your project. The pricing and project plan are clear and detailed, the team is proficient, polite, and extremely skilled, and from top to bottom they are committed to making you happy. My bathroom is spectacular and the entire process was pleasant. My project was a major overhaul of an onsuite master bath for me. Actually it was a tiny walkin closet and a tiny bathroom. We combined them into a larger bathroom with a dressing area. From the beginning Alex is clear, concise, and very knowledgeable. He lays out the project for you and gives you info on choices you have to make. He accompanied us to look at tile and fixtures and explained the pros and cons of the ones we were considering. He ordered, picked up and delivered everything. I mean everything. Tile. Fixtures. Rags. Garbage bags. Lumber. Door. Bottled water for his team! The project started very quickly. Throughout the project, the carpet and stairs were covered, even when the workers were gone for the day. When they were there, additional tarps were laid down. Every night the area was cleaned and packed up, the garbage was removed, etc. There was even a pole system tarp blocking off the area so dirt and debris were contained. There were 'challenges' in my project as there always are. The subfloor was mush and had to be replaced, as did the bottom of a few studs. Alex again showed me the issues, clearly laid out the options, but let me choose. I have heard horror stories of missing contractors, long delays, shoddy work. So I chose AC for two reasons, the 5 star rating and a photo of one of his projects that I loved the wood look tile on. So I feel happy and proud to add my own 5 star to the reviews.
We have been using AC remodeling since 2012 when they renovated our kitchen. That experience was so good, we've used them to renovate 2 baths, a french door, and numerous painting and fix-it jobs. Alex and his crew are extremely talented, do excellent work, always clean and tidy and within budget. We give them our highest endorsement. Truly, you cannot find a better contractor.
Jennifer C
March 9, 2020.
AC Remodeling just recently finished remodeling my master bath, and I am so happy with how it turned out! I had a vision, but needed help with selecting finishes. Alex and Carolina are wonderful to work with, and will guide you every step of the way (if that's what you want). I would not hesitate to recommend AC Remodeling to anyone wanting to remodel a bathroom. I am also dreaming of a kitchen remodel one day, and I know the first place I will call!
Let's get started designing your dream basement today!
Benefits of Finishing Your Basement
Depending on circumstances and budget, a homeowner has multiple reasons to refinish their basement. The following sections will cover the various benefits of finishing your basement...
Extra Space
Firstly, a basement remodel creates a significant amount of liveable space in the home without expensive home addition construction. For homeowners with large families, this can dramatically decrease stress and allow everyone to be more comfortable in the house.
Beyond expanding the available room for you and your household, a refinished basement can also be an excellent space for entertaining. If you choose to use your new basement as a cozy sitting area, family room, or dining space, it can dramatically increase the number of guests you can host at one time. Additionally, an exciting game room or impressive home theater can make your home a desirable destination for visitors.
Increased Home Value
A finished basement also provides a meaningful boost to home values. The increased square footage makes a big difference, but these rooms also allow sellers to set their property apart from the competition. A stylish and creatively designed basement game room or movie theater can catch the eye of potential buyers and even spark a bidding war.
Feel Better at Home
Lastly, when your home looks better, you feel better. The environment around you has a significant impact on how you feel, and giving yourself a new basement that you're proud of can improve your mood. When you hire AC Remodeling to remodel your basement, we'll leave you with a space that is enjoyable to spend time in, especially with family and friends.
Get Expert Basement Remodeling Services in Rockville, MD
If you're planning to remodel your basement, or any other room in your home, AC Remodeling Services is here to help. Our experts can make the process a breeze by assisting with the design phase and handling every aspect of demolition and installation. Choosing AC Remodeling as your basement remodeling company in Rockville, MD guarantees you'll be thrilled with your new basement.
At AC Remodeling, we have the skill and experience to make your dream basement a reality. These projects are complex and involve plumbing and electrical work and standard construction labor. However, our team of licensed contractors can handle every step of the process, ensuring your home is always in good hands.
We have a record of many completed basement renovations as well as remodels of kitchens and bathrooms; feel free to explore our website for remodeling ideas and tips. When you're ready to start your basement remodeling in Rockville, MD, call AC Remodeling at (240) 632-1660 to schedule your design consultation.
Home Remodeling Services In Rockville, Maryland
At AC Remodeling, we are full-service design-build home remodeling contractors which means we only handle complete remodeling projects. This approach allows us to give our full attention to each project we accept and to focus on providing our clients with the most enjoyable spaces possible. While we do not do handyman or partial remodeling work, our expert team can remodel more than just your basement.
As an experienced Maryland remodeling company, we specialize in designing and installing stunning kitchens, bathrooms, and basements for our community's homeowners. The AC Remodeling team maintains constant communication with our clients to ensure we can make the necessary adjustments to leave your newly remodeled room precisely how you want it. We also provide smart-home automation services, so we can completely transform the look and feel of your home for the better.
Choosing the correct kitchen remodeling contractor in Rockville, MD is important. Our staff has the knowledge and equipment to exceed your expectations!
Hundreds of Rockville, MD homeowners have entrusted AC Remodeling with bathroom renovating tasks ranging from half baths to master bathrooms.
Do you want to convert your Montgomery County, Maryland basement into a beautiful and useful area? Perhaps you yearn for a comfy family room, playroom for the kids, or an adult entertainment space.
You can save time and energy by integrating smart home automation into your Rockville, MD property. AC Remodeling provides the knowledge you need.