As the top experts in basement remodeling in Silver Spring, MD, we combine unmatched craftsmanship with innovative design to create a space that elevates your home. Whether you desire a cozy retreat, a functional home office, or an impressive entertainment area, our skilled professionals are here to bring your vision to life. 
Contact us today for an initial virtual design consultation and allow the best basement finishing contractors in Maryland create the living space of your dreams.
AC Remodeling: Premier Basement Contractors in Silver Spring, Maryland
AC Remodeling is the ideal choice when it comes to basement remodeling in Silver Spring, MD because of our: 
Unmatched Expertise and Experience
With years of industry knowledge, we have successfully handled numerous basement remodeling projects, gaining insights into various basement styles and layouts. So, when you choose AC Remodeling, you can trust that you are working with seasoned professionals who understand the intricacies of transforming basements into beautiful living spaces.
Commitment to Premium Materials and Craftsmanship
At AC Remodeling, we guarantee durability, longevity, and an impressive finish by selecting top-notch materials. In addition, our skilled craftsmen pay meticulous attention to detail, ensuring that every aspect of your basement remodel is precise. As a result, you'll get to enjoy a stunning and functional living space that you can enjoy for years to come.
Personalized Approach and Customer Satisfaction
Our goal is to exceed your expectations, creating a basement that truly amazes you. To do so, our team takes the time to understand your vision, needs, and goals for the space. Then, we collaborate closely with you throughout the remodeling process –– from initial design discussions to the final touches. 
Comprehensive Services
At AC Remodeling, we offer comprehensive basement remodeling services to meet all your needs. Our team of experts handles every aspect of the remodel, from conceptualization to completion. We work with you to create customized designs that maximize the potential of your basement space. We also assist in material selection, giving you access to a wide range of high-quality options that are within your budget. Lastly, our dedicated project management ensures that your remodeling project is executed seamlessly, minimizing disruptions and delivering exceptional results.
Timely and Efficient Project Execution
We have streamlined processes to ensure accurate results without compromising on quality. Therefore, with AC Remodeling by your side, you can have peace of mind knowing that your basement remodeling will be completed on time, allowing you to start enjoying your new space as soon as possible.
Exceptional Customer Support
We pride ourselves on providing exceptional customer support throughout the entire remodeling process. Your satisfaction is our top priority, and we go above and beyond to ensure you have a positive and enjoyable experience working with us.
Local Expertise in Silver Spring MD
As a local company serving Silver Spring, MD, we have in-depth knowledge of the area's building codes, regulations, and architectural styles. Our team is also familiar with the unique needs and preferences of homeowners in the community. We leverage our local expertise to deliver basement remodeling projects that not only meet your vision but also align with the character and charm of Silver Spring.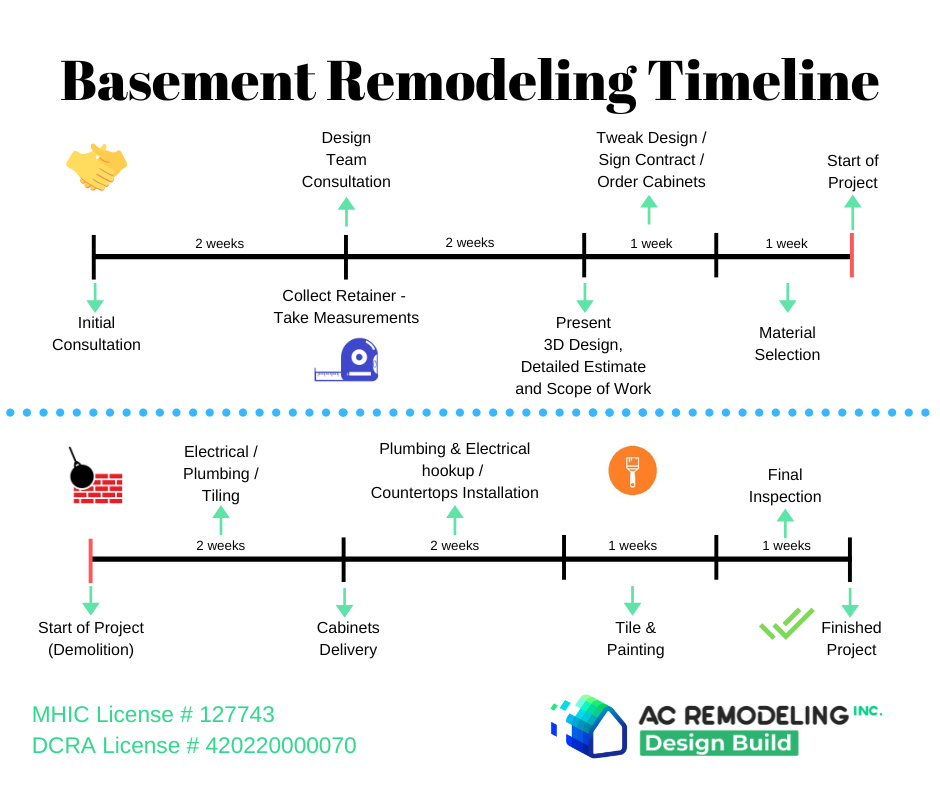 Laura Jackel
January 28, 2023.
AC Remodeling remodeled our master bathroom and we love it. They remodeled our basement in 2020 and we loved it so much, we chose them again. Their work is always thorough, clean, and they work with you closely. Alex shows up every day to verify things with the crew and encourages us to ask questions and communicate with the crew as Well. That is one of the things that impresses me the most. Alex always shows up and is heavily involved whether they are remodeling an entire basement or a master bath. I love our master bath now. It is not a standard bathroom layout, but now we have a much larger and comfortable counter for both of us, the tiled niche is lovely, and a beautiful shower. We have a small toilet shower room, so the pocket door is great to increase the space, and the tile work is a 10. I am picky and I enjoy seeing it every day. To me, if a new remodel feels like home within a few days, I will go back to this company again.
debbie rorabaugh
December 18, 2022.
The owner of this company, Alex and his wife, are very involved in the total process of the renovations we had done at our house. Alex we always available to answer any questions. He guided us through the selection process of the finishes and helped us create the kitchen we desired. He did such a good job we called him back a few years later and worked with him to redo our master bathroom. It has been a pleasure to work with this company. They are quality and stand behind their work. We are 10 years into our kitchen renovation and still very pleased with the outcome.
Peter Klover
May 18, 2022.
From our first meeting/consultation to the completion of our basement remodel, Alex, Carolina and the team at AC Remodeling took the time to listen to our thoughts and present us with a design, now finished, that we are incredibly happy with! Ours was a tricky space to work with, but the resulting remodel is a wonderful refresh to the dark, dank space it was. They and their work crew were always professional and insistent on using quality materials. Even after completing the remodel, Alex and his team promptly answered our calls and follow up questions. We will gladly hire them again for future renovations. Thanks Alex and team!
Bret Sellman
March 25, 2022.
We couldn't be more happy with our experience working with Alex, Carolina and their team. We have had many contractors complete numerous projects on this and other houses, but working with the AC Remodeling team has been the best, hands down. Everything, from the design work to their simplified process for selecting cabinets, appliances and tile to their top quality craftsmanship. But, the best part of all was the people. The entire crew are true professionals. They always respected our house and our space and cleaned up before they left each evening. We really enjoyed working with them and chatting with them in the morning before they started and every evening to see what they accomplished that day. We will definitely work with AC Remodeling in the future and would recommend them for any remodeling job without reservations.
Michelle Olenoski
February 6, 2022.
AC Remodeling renovated my basement and a bathroom. Alex and Carolina and their team were great to work with throughout the entire process, ensuring I was satisfied. I was picky at times with my selections (I wanted marble in a basement bathroom for example!) -- and Alex was flexible to accommodate and make sure everything matched well and was completed with quality. I would definitely work with them again and recommend!
Stephanie Murphy
October 29, 2021.
Alex, Melissa, Carolina and the entire team were wonderful to work with from the beginning. They understood the family challenges, listened to what we needed and worked through each step with us. We ended up with a beautiful, new bathroom, repaired kitchen and all new plumbing. The entire team was so thoughtful and considerate about our space. Can not recommend more highly.
Eden Durbin
July 13, 2021.
AC Remodeling was the best thing that ever happened to us. We will never do another home project without them. They were clear, responsive, caring, knowledgeable, and always on time and on budget. They listened to us, help guide the way to make the right decisions, checked in on us regurlarly, and did beautiful work. We recommend them to all of our family and friends. You cannot go wrong with AC Remodeling.
Mary Anne Knutson
November 23, 2020.
2020 Update: I have since used Alex for another bathroom and a complete kitchen remodel, and he is as perfect as ever! We actually left the house for six weeks while he was doing the kitchen, to make it easier for me, and him. I didn't lose a wink of sleep over not being there. I can't imagine having any work done without Alex. I've also had smaller projects, painting, half bath, and front door. I highly recommend Alex, Carolina, and their team. They are expertly skilled, detail oriented, and so very careful with your home and your project. The pricing and project plan are clear and detailed, the team is proficient, polite, and extremely skilled, and from top to bottom they are committed to making you happy. My bathroom is spectacular and the entire process was pleasant. My project was a major overhaul of an onsuite master bath for me. Actually it was a tiny walkin closet and a tiny bathroom. We combined them into a larger bathroom with a dressing area. From the beginning Alex is clear, concise, and very knowledgeable. He lays out the project for you and gives you info on choices you have to make. He accompanied us to look at tile and fixtures and explained the pros and cons of the ones we were considering. He ordered, picked up and delivered everything. I mean everything. Tile. Fixtures. Rags. Garbage bags. Lumber. Door. Bottled water for his team! The project started very quickly. Throughout the project, the carpet and stairs were covered, even when the workers were gone for the day. When they were there, additional tarps were laid down. Every night the area was cleaned and packed up, the garbage was removed, etc. There was even a pole system tarp blocking off the area so dirt and debris were contained. There were 'challenges' in my project as there always are. The subfloor was mush and had to be replaced, as did the bottom of a few studs. Alex again showed me the issues, clearly laid out the options, but let me choose. I have heard horror stories of missing contractors, long delays, shoddy work. So I chose AC for two reasons, the 5 star rating and a photo of one of his projects that I loved the wood look tile on. So I feel happy and proud to add my own 5 star to the reviews.
We have been using AC remodeling since 2012 when they renovated our kitchen. That experience was so good, we've used them to renovate 2 baths, a french door, and numerous painting and fix-it jobs. Alex and his crew are extremely talented, do excellent work, always clean and tidy and within budget. We give them our highest endorsement. Truly, you cannot find a better contractor.
Jennifer C
March 9, 2020.
AC Remodeling just recently finished remodeling my master bath, and I am so happy with how it turned out! I had a vision, but needed help with selecting finishes. Alex and Carolina are wonderful to work with, and will guide you every step of the way (if that's what you want). I would not hesitate to recommend AC Remodeling to anyone wanting to remodel a bathroom. I am also dreaming of a kitchen remodel one day, and I know the first place I will call!
Our Basement Remodeling Process
At AC Remodeling, we follow a comprehensive and meticulous process to ensure our finished basements are executed seamlessly and outstandingly. Discover the hassle-free stages of our basement remodeling process below:
Initial Consultation
The first step in our process is the initial consultation. This is where we lay the groundwork for your dream basement:
We take the time to understand your vision and functional needs, whether you're looking to create a laundry room, a wet bar, or even a

basement apartment

.



We explore potential design ideas aligned with current trends, ensuring your basement is modern and stylish.
Design Phase
Once we have a clear understanding of your vision, we move on to the design phase. This step involves:
Drafting a layout that suits your preferences. As a result, you'll have a space that is optimized for your needs.



Assisting you in choosing high-quality materials that resonate with your aesthetic, ensuring the finished basement reflects your style.
Construction and Finishing
The final phase is where your dream basement comes to life, with careful basement construction ensuring every detail is perfect. Our clients often tell us we do such a great job with their basement finishing.
Inspiring Ideas for Your Basement Remodeling Project in Silver Spring, MD
Your basement is a blank canvas waiting to be transformed into an extraordinary space that adds value and functionality to your home. Instead of turning an unused basement into a laundry room, consider these wonderful ideas before contacting any remodeling services:
Create an Impressive Home Theater or Game Room
Install a high-definition projector, a large screen LED TV, and surround sound speakers to recreate the immersive movie theater experience. Add comfortable seating, dimmable lighting, and soundproofing to ensure an optimal viewing environment. With a professionally designed home theater, you can enjoy the latest blockbusters or watch movies in style and comfort.
Design a Stylish Wet Bar and Lounge Area
Create a cozy lounge area with comfortable seating, stylish décor, and ambient lighting. You can also install beautifully crafted bar cabinets–– with a sink, refrigerator, and ample storage –– for your favorite beverages and glassware. 
Craft a Versatile Basement Home Office
Create a dedicated workspace with a spacious desk, ergonomic chair, and ample storage solutions to organize your supplies. Incorporate natural lighting and task lighting to create a bright and comfortable atmosphere. Personalize the space with motivating artwork and décor that reflects your professional style.
Build a Personal Fitness Studio
Set up a dedicated workout area with gym-quality equipment, mirrors, and rubber flooring for safety and durability. Install soundproofing insulation to create a quiet environment for focused exercise. Incorporate storage solutions for fitness accessories and create a motivating ambiance with vibrant colors and motivational artwork.
Transform Your Basement into a New Living Space Today
AC Remodeling is the trusted name you can rely on to expertly handle your basement remodeling project in Silver Spring, MD. Whether you have your heart set on a cozy entertainment area, a functional home office, or a personalized gym, the best company in the area is ready to bring your vision to life. 
Call AC Remodeling today to schedule an initial consultation, and let us turn your dream basement into reality. Together, we will create a stunning living area that reflects your unique style, enhances the functionality of your house, and exceeds your expectations.
Ready to take the first step in transforming your basement into something fabulous?
Our Silver Spring Home Remodeling Services
Choosing the correct kitchen remodeling contractor in is important. Our staff has the knowledge, experience, and equipment to exceed your expectations!
Hundreds of Silver Spring, MD homeowners have entrusted AC Remodeling with bathroom renovating tasks ranging from half baths to master bathrooms.
Do you want to convert your Montgomery County, Maryland basement into a beautiful and useful area? Perhaps you yearn for a comfy family room, playroom for the kids, or an adult entertainment space.
You can save time and energy by integrating smart home automation into your home. AC Remodeling has the knowledge you need to stay up-to-date on the latest technology.