One word captures why homeowners trust AC Remodeling for their custom bathroom remodeling projects in Bethesda, MD, and surrounding areas like Potomac, Rockville, Silver Spring & Kensington, MD.
That word is: "Wow!"
AC Remodeling Delivers Dependable Excellence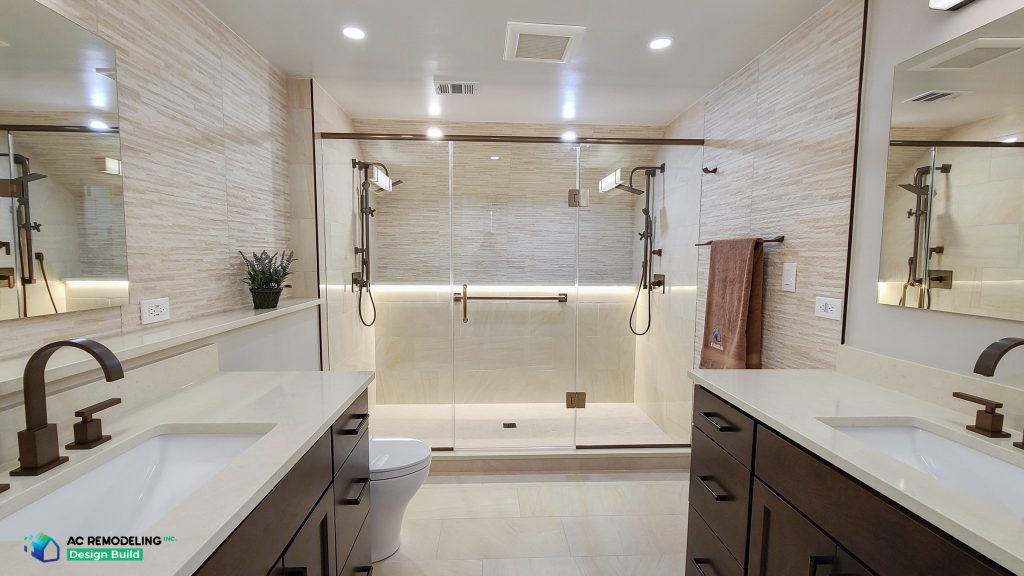 When you live in a neighborhood that exudes timeless quality, inspired style, and fine taste, you want a bathroom remodeling contractor with a proven track record of top performance.
AC Remodeling is an elite-level design-build firm. We have been turning dreams into reality for proud homeowners since 2009.
Your home is your oasis. It's the center of your family's life. Every room contributes to your happiness.
Ahh, but your bathrooms do double duty:
Your master bath helps you get your morning off to a great start, then becomes your personal retreat space at the end of a long, busy day.
Your hall bathroom not only provides plenty of capacity to accommodate multiple family members, it also warmly welcomes your guests.
(And when you choose AC Remodeling for your bathroom design, get used to many of those guests emerging with a compliment: "What a wonderful bathroom!").
A bathroom is about more than gorgeous design — although capturing your special aesthetic is one of AC Remodeling's talents. Perhaps more than any other room in your home, a bathroom must also function flawlessly.
Because you rely on your bathroom to be problem-free, AC Remodeling helps you choose the best combination of high end bathroom fixtures that will serve you faithfully for many years. (We learned long ago that only top-quality fixtures stand the test of time.)
A Custom Bathroom Adds Value
Of course, custom bathroom remodeling in Potomac, Bethesda, Kensington, Silver Spring and Rockville, MD does more than put a smile on your (and your guests') faces. It supports the financial investment you made in your home.
An upgraded bathroom can also give you an edge if you someday choose to sell. If you've ever dropped in on an open house in your area and looked at the bathrooms, you know the power of that first impression to draw you in — or immediately turn you off.
The difference between "oooh" and "ugh" in a bathroom often comes down to the quality and expertise of the design services the homeowner used. Yes, tastes and trends change over the decades. But the more timeless the bathroom design, the better it will usually hold its value.
Request a Design Consultation
What separates AC Remodeling from other design-build firms? It's very simple: You. We focus on your dreams, needs, and how each family member will be served by the new design.
We're not here to sell you products. We don't work on commission. Making you happy is our only goal. (And as you can see in online reviews, our customers are very pleased. That's not a boast — it's the truth.)
We also don't make assumptions about your familiarity with remodeling. Whether you are new to the process or have had a lot of exposure to custom bathroom remodeling in Silver Spring, Bethesda, Kensington, Potomac and Rockville area homes, we provide the right amount of guidance combined with unparalleled attention to detail.
So, imagine how you will feel that first morning in your new master bath. Picture the envious smile on guests' faces when they see your delightful new hall bathroom.
Then, request a design consultation so we can begin to make your custom bathroom dreams come true.