Fashions in clothing change from season to season, but smart kitchen remodeling designs can keep your kitchen looking fresh and welcoming for years to come. If you're not sure where to start when thinking about a kitchen renovation, make it easy on yourself and begin with the Three C's: colors, cabinets, and cleaning.
Kitchen updates, especially in newly built homes, usually take place over a period of years. Most homeowners start with painting or wallpapering the walls before moving on to new countertops and flooring options. The cabinets stay put unless they need replacing because of age or cosmetic damage. But even if your kitchen cabinets are sturdy and attractive, there's still a lot you can do with them without changing their basic style.
Check out these Modern and Timeless Kitchen Design Elements:
Clean and simple is always a winner, so stay away from too many busy or complicated patterns. Avoid mixing materials, finishes, and textures when redecorating your kitchen. For example, if you choose wood cabinets with granite countertops, go with wood as the dominant design element. If nothing else, stick to natural stone or other natural materials to achieve a timeless design.
Colors for Timeless Kitchens
Timeless design colors include shades of white and neutral beige, with accents from warm golds through rich copper tones. If you want to add some color to your kitchen
One of the simplest steps toward a timeless kitchen remodel in Rockville, MD is choosing a neutral color. Neutral colors come in a wide range: cool to warm, highly light-reflective to more earthy tones.
Ideally, your kitchen colors should blend seamlessly with adjoining rooms in your home, providing pleasing visual transitions as you move from your kitchen to your living room, dining room, or adjoining hallways.
Think of your kitchen's colors in two layers: a base layer that serves as the dominant color throughout the room, and an accent layer that brings in those touches of color that tailor the kitchen to your personality and design preferences.
And remember the materials you choose to convey those colors will determine how easy or difficult they are to change in the event you ever feel like refreshing your kitchen's look.
Think of tile and other hardscape materials — on walls, backsplashes, and floors — as literally set in stone.
Paint, on the other hand, is far simpler to swap in and out to change up your color scheme.
Timeless Kitchen Cabinet Ideas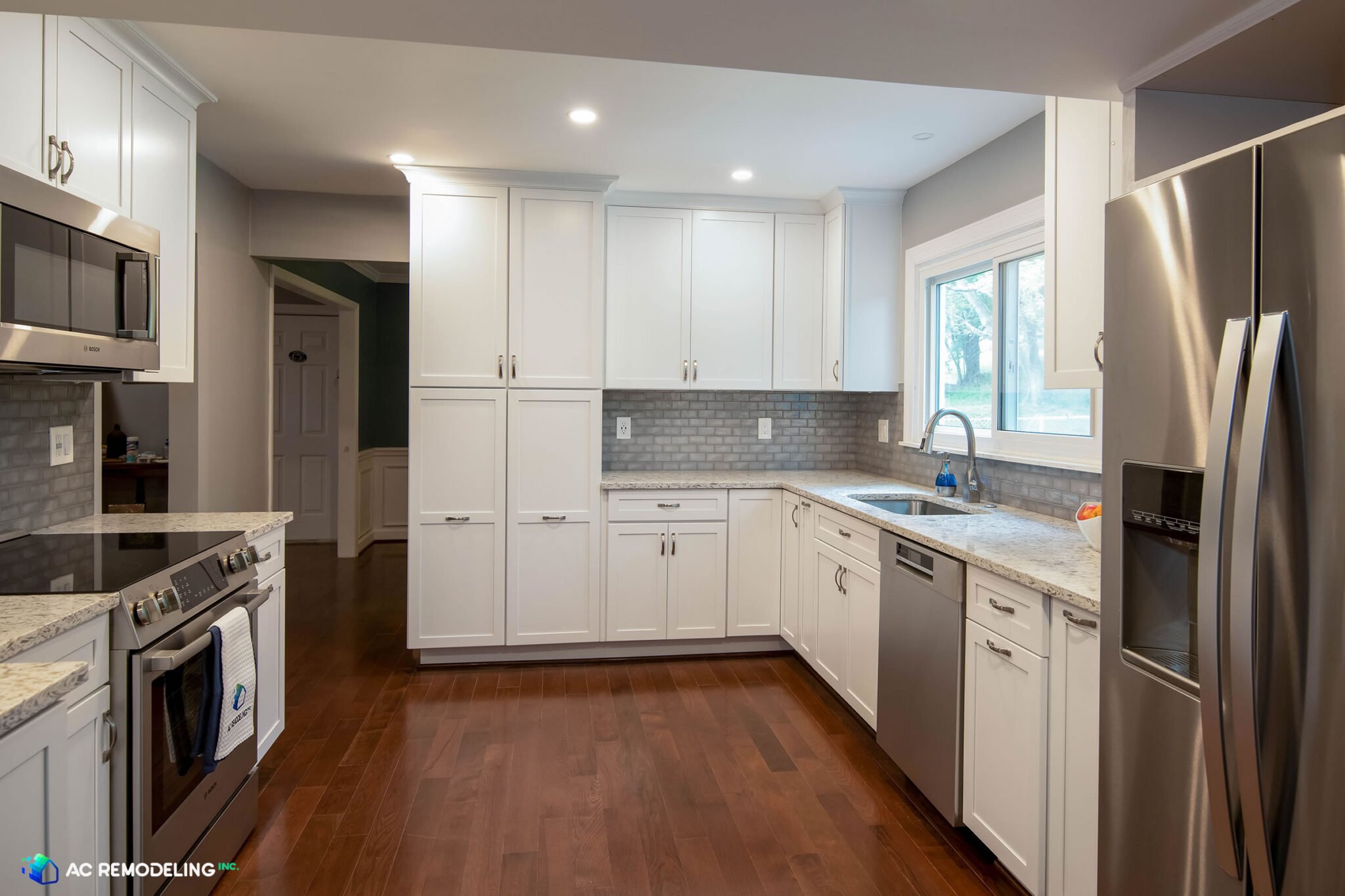 Kitchen cabinet styles come and go, but certain basic types and colors endure. You can always find a style that suits your tastes in cabinets in the latest catalogs for kitchen remodeling in Gaithersburg, MD.
But when you're thinking about timeless kitchen design ideas, consider these two words: "comfort" and "practicality." When you're working with cabinets — either custom or off-the-rack — it's important to ask yourself whether they meet all of your basic needs.
Will they hold the things you want them to? Will they be easy for you to use? Can you customize them if necessary? Timeless kitchen designers often look back to earlier periods in history for inspiration. They look for trends and styles that have held up against the test of time or come back around multiple times.
Shaker-style cabinets are certainly a timeless choice for any kitchen. Shaker-style cabinets are cabinets made from natural wood, with traditional raised panel details and simple profiles.
Convenient storage is a must in a modern kitchen, with cabinets arranged for quick access to your most-used items. The capacity of your wood cabinetry is also important, with the right mix of sizes, from tall closets to under-counter heavy-duty trash and recycling holders, to shallow pull-out drawers holding those big stirring spoons you use at nearly every meal. Being realistic today about the storage you need will ensure that your kitchen gives you all the practical day-to-day (and night-to-night) utility you need from it far into the future.
In addition to their size and arrangement, choosing the right material and finish for your cabinets will serve to complement the other colors in your kitchen. Generally speaking, lighter hues mean brighter kitchens. If you prefer darker cabinetry, you might need to use stronger lighting, bigger windows, or skylights to balance the room's light and dark areas.
Include a Functional Kitchen Island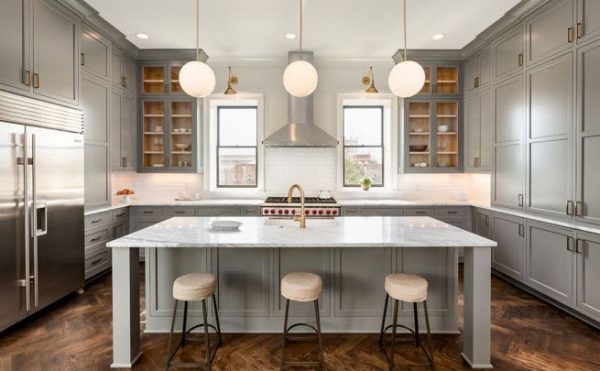 Most timeless kitchen designs will include an island that serves multiple purposes. Nowadays, you will see more kitchens with an island than without. Putting extra thought into the timeless design of your island will pay off in the long run.
Make sure it's multi-functional. Your kitchen island design can include built-in appliances that hide them from general lines of sight. Additional seating for an easy place to eat breakfast or for your kids to do homework. A lot of people love to entertain in their kitchen so the extra seating is a great place for friends and family to sit and chat and make memories together.
You will also want your island to be a functional food prep space. Imagine being able to bond with your kids while preparing snacks instead of them lounging in the other room. Or conversating with an old friend while cooking a delicious meal. You won't regret investing time and money in a functional kitchen island.
Kitchen flooring that's built to last
In order for a kitchen to truly be timeless, it needs to have flooring that is built to last the test of time. For years, hardwood floors were the best option for a timeless design. However, they can be difficult to maintain and do scratch.
One of the newer products on the market is EVP (Engineered Vinyl Plank). It looks almost identical to hardwood but it is completely waterproof and more durable. The one downside is that it is not as hard as hardwood so heavy appliances may leave depressions on the surface of the floor. However, if like most people, you don't plan to relocate your refrigerator … this is a great option!
It is important to pick a flooring option to fits your lifestyle and taste. An alternative to EVP flooring is traditional porcelain tiles. Similar to ceramic tiles, porcelain is much stronger, durable, and gives a very classic kitchen look. It is also very easy to clean and stain-resistant. Since it comes in many different shapes, sizes, and colors you consider this a good option if you have little ones who leave a trail of dirt behind them. Keep in mind, it is a very hard surface so any glasses or plates that hit the floor likely won't survive the fall.
Easy to clean and durable surfaces
The kitchen is one of the busiest rooms in a typical home. Everyone's path leads through the kitchen at some point during the day or night, usually multiple times. From casual family meals, to kids doing their homework at the kitchen table or breakfast bar, the kitchen can need cleaning far more often than other rooms that get less foot traffic.
That's why modern kitchen design needs to make cleaning a simple and easy process. Cleaning supplies need to be kept out of sight but close at hand in their own closet or drawer. Surfaces need to be easily accessible, from the floor to the ceiling and everything in between, including countertops, tables, islands, and shelves.
Timeless Kitchen Designs are all about making your kitchen as practical and easy to maintain as possible so that you'll be happy with it for many years to come.
Hardware fixtures that complete a cohesive look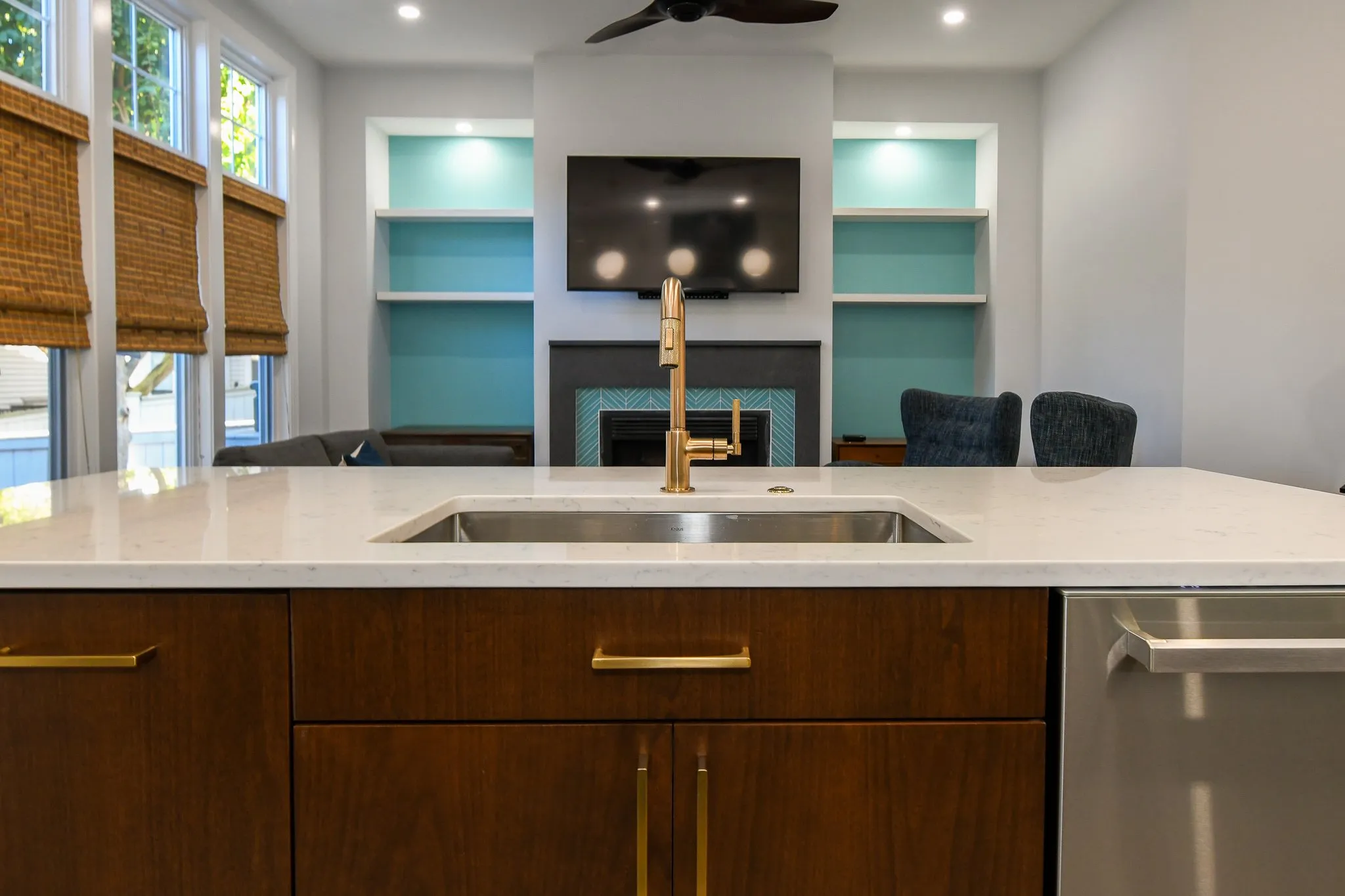 Hardware fixtures, from cabinet and drawer pulls to faucets and appliance handles, are a great opportunity to finish off a Timeless Kitchen Design with a cohesive look. Your hardware colors should match your kitchen backsplash tile for a classic look that will never go out of style. Most modern and timeless kitchen designs use classic shapes and styles from the past until the present day because they know it's something people have appreciated and loved through the decades.
You can always add new touches or brighten up old ones to give an aged effect if you want some more flair in your kitchen design.
Modern and Timeless Kitchens are our specialty!
The ultimate modern and timeless kitchen design is a mix of style, functionality, and design elements. The key to a timeless design is in the neutral colors, multi-functional elements, natural woods and stones, and mixes of classic and modern features. There is no right or wrong design. Timeless means you will love it forever so be mindful of your priorities when making decisions for your kitchen remodel or renovation.
We would love to work with you to create the kitchen of your dreams. Everyone's timeless style is a little different. That's why, when you choose AC Remodeling, your will work with a creative and talented kitchen designer to select the perfect window treatments, ambient lighting options, and neutral colors to complete your kitchen remodel design.
---
AC Remodeling can guide you through all the steps of a timeless kitchen design with a modern feel.
Call or email us today to set up your initial consultation
240-632-1660