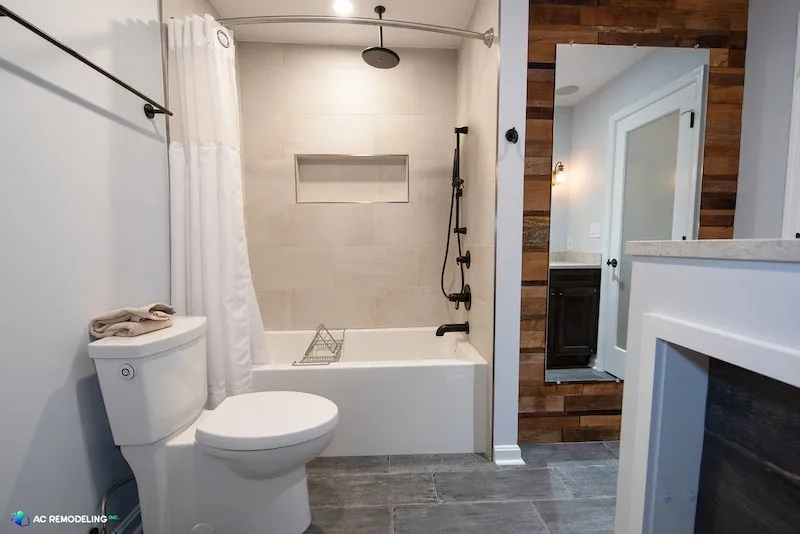 You have already chosen and have a clear vision of how you want your bathroom to look. Maybe you want to change the wall structure, expand the bathroom, or place that large window for a nice view when taking a shower.
But, you realize you are unsure if you need a permit for your bathroom remodeling project. In this article, we will break down the components of a bathroom remodel and their permitting requirements.
Do you need a permit for bathroom remodeling
Some projects require a permit, and some don't. Read the rest of the article to find out which tasks need a permit and what permits are necessary for Maryland and Rockville, MD.
When are bathroom remodeling permits required?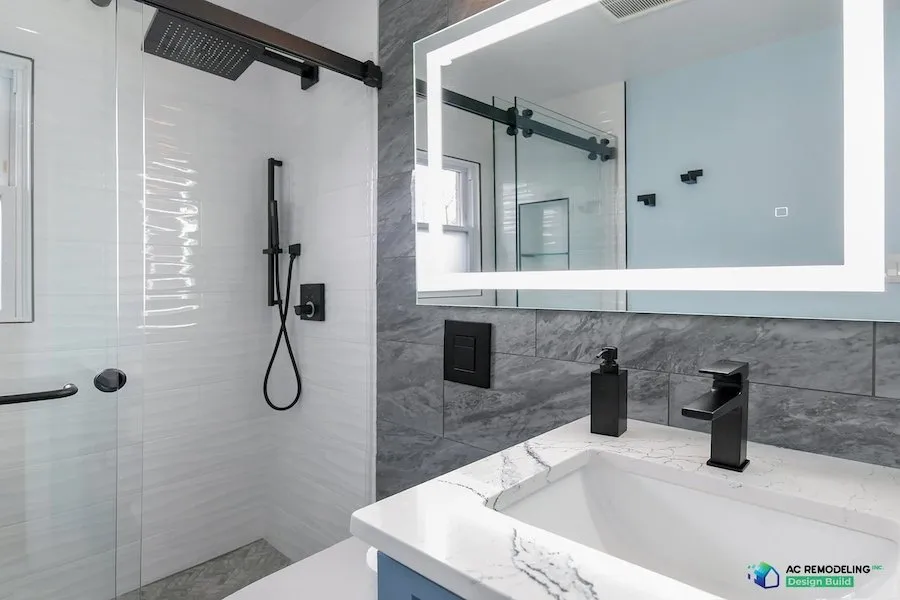 More often than not, home remodeling projects require a permit to complete. Below you can find the list of all projects requiring a remodeling permit.
Full-scale bathroom renovation projects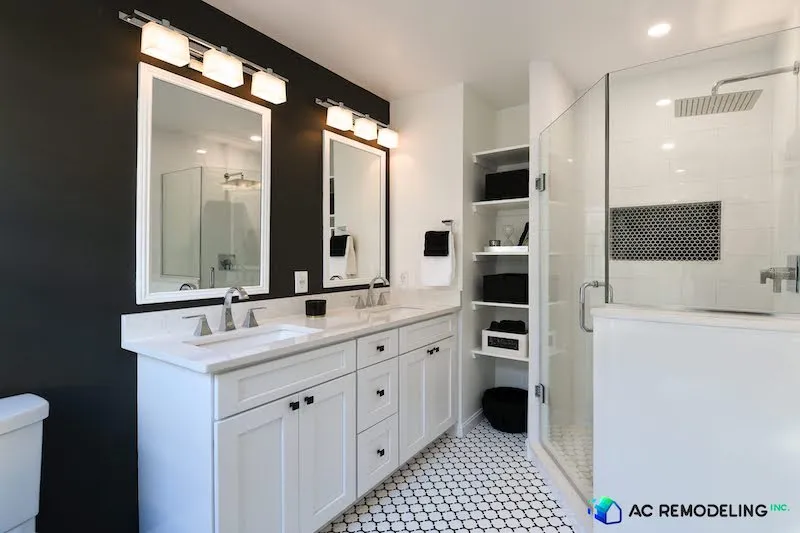 Usually, a new bathroom project will require actions such as changing the structure of your walls, floor reinforcement and adding ventilation. From our experience with bathroom remodeling in Rockville, MD, a project of this magnitude will need a permit.
This is because you need to stay within the city's standards. In addition, checking your floors need to ensure the construction is made from solid material and can withstand a specific amount of weight.
Projects requiring plumbing and piping
This section will discuss new plumbing and piping for sinks or bathtubs during bathroom remodels. Generally speaking, to add in a new sink or bathtub, you must make some adjustments to the plumbing system in your home. Rerouting and reconfiguring your pipes is the first step.
Both of these require shortening or extending existing pipes. To ensure everything is safe and that plumbing is up to code, you must get a permit to install new piping and plumbing for your bathtubs and skinks.
The plumbing permit is needed to ensure your home is up to code.
Removal of load-bearing walls
These are the walls that hold support for the structure of your home. Building permits are required here because if you remove too many or don't correctly replace the support structure, there is a good chance you will damage your house.
You should always hire a professional home remodeling contractor when removing load-bearing walls. In addition, most counties across the United States require a permit for this project. Usually, the city's inspector is required to verify your project and the safety of the entire operation. After completing all these steps, your licensed contractor may begin to remove load-bearing walls.
HVAC repair or replacement
This refers to either adding or replacing central air and HVAC systems. Also, HVAC refers to any heating, cooling, or ventilation system that runs through a building. Because of the complexity of these systems and operations, permits are mandatory. Improperly installing or removing one of these systems can cause serious health hazards.
Adding or relocating windows
Typically any change involving the external structure of your home will require permits. Simply replacing an existing window with a new one or replacing the seals will not. However, moving or adding windows probably will. Check with your township to confirm before cutting any holes in your home.
Parking for workers or dumpsters
This one might not be obvious, but imagine what would happen if you lived in a crowded area with terrible traffic and no parking. Your workers might not be able to come to do job site and do their work correctly and efficiently. Some neighborhoods limit street parking for residents only and have dedicated window permits. You don't want your hard-working home remodeling contractors leaving after a long day only to find their car or truck has been towed.
Some bathroom remodeling projects in Gaithersburg, MD with heavy demolition will require a 20 or 30-yard dumpster rental to dispose of the construction debris. You will need a permit to park a dumpster outside your residence in an urban area. However, if you live in a rural or suburban area with a private driveway, you will likely not need to pull a building permit for your dumpster rental.
Ventilation systems
Ventilation systems affect a large area of your home, which is why a permit is needed to make changes. Building damage is inevitable if the ventilation system is improperly handled. As previously mentioned, the city inspector must inspect your ventilation system before making any changes.
Drain and sewer lines
Here, we are primarily referring to adding or removing drain lines in your bathroom. The main function of drain lines is to carry water and waste from your bathroom. They carry water and waste to the main line, which is why they need to be inspected before making any immediate changes. If something unwanted is connected to the main line, the whole city will suffer the consequences. Therefore, inspectors need to check and review everything before adding or removing drain lines in your bathroom.
Major electrical work
Any major electrical work planned for your bathroom renovation will require proper permits. Minor electrical work like replacing light switches or outlets will not require an electrical permit. If you're unsure if a permit is needed, play it safe and consult your electrician or contractor.
Projects that likely don't require a permit for your bathroom remodeling
As said before, most bathroom remodeling projects will require a permit. However, some projects don't require permits to start a remodeling of your bathroom.
Updating or replacing light fixtures
You will not need to pull a permit to update or replace light fixtures in your existing bathroom. In addition, there is minimal risk of severe damage to your property when swapping an existing light fixture for a new one.
However, if you happen to be inexperienced in handling electrical systems, you should consult with a professional because you could get seriously hurt.
Painting the bathroom
This is as simple as grabbing a paint of your choice and starting to get the job done. Changing your bathroom's aesthetics isn't considered a significant risk, and minimal damage is possible if done incorrectly. Also, any project related to interior painting, more often than not, doesn't require any permits.
Permit requirements for bathroom remodeling in Rockville, MD
The document of licenses and residential permits says that Maryland State law requires home improvement contractors to be licensed by the Maryland Home Improvement Commission (MHIC). Before starting any construction project, the MHIC requires contractors to obtain all the necessary permits.
Here are the general requirements:
A permit is required for all interior and exterior structural changes, alterations or repairs, and some interior non-structural modifications.
A permit is not required for ordinary repairs and replacements that are non-structural.
Does the City require an approval letter from a condominium or homeowners association? 
The city does not require an approval letter from all of Rockville's condominium or homeowners associations.
However, projects in King Farm and Fallsgrove that involve exterior modifications, such as new fences, decks, and additions, will require a letter of approval from the condominium or homeowner's association to be provided at the time of permit submittal.
Conclusion
There are some general guidelines to follow when predicting if your current bathroom remodeling project needs a permit or not.
Projects that involve complex tasks and have the potential to harm, endanger, or damage the health of the building must obtain a building permit. On the other hand, some projects like painting and the addition of lighting fixtures don't require any permits because these projects' potential risk and damage are low.
When taking a significant home renovation project, you always want to work with a reputable company or general contractor that understands what the project requires and will pull the necessary permits before starting.
At AC Remodeling, we are familiar with the Montgomery County, MD area's local government and local municipality building codes. So, if you're planning a bathroom remodeling project, call us today or schedule a consultation!