by Sharon Penn
Remodel your master bath and create a spa-like oasis where you can escape for some alone time and pampering. You can enlarge your shower, add smart bathroom automation features, and create a separate toilet area for the ultimate in comfort and convenience. The right amount of cabinetry will provide the storage you need to control the clutter and keep things clean and neat.
Experienced representatives at AC Remodeling in the NW Washington DC area will tell you the latest master bath design trends and show you the new bathroom materials on the market. They will suggest layout options that fit your needs and your lifestyle and guide you in choosing the right color scheme, flooring, countertops, tiles, and fixtures.
AC Remodeling in NW Washington DC will take care of all the construction details like installing new plumbing, tearing down walls, and replacing sub-floors with durable materials that resist water and avoid mold.
When you are ready to remodel, here are some tips to create the master bath of your dreams.
1. Choose a Relaxing Color Scheme
A neutral color palette of white, gray, beige, and/or black can add a contemporary touch and a spa-like atmosphere to your new master bath. Textural elements and a pop of color add interest while keeping that spa immersion feel. Wood or white vanities and white countertops are trending, along with wood-look, white and gray flooring.
2. Select the Right Materials
It's important to take special care in selecting construction materials for your bathroom remodeling project. Choosing the right materials can prevent water damage and avoid mold growth. Wood-like tiles are a good choice for your master bathroom remodeling project.
3. Consider a Free Standing Tub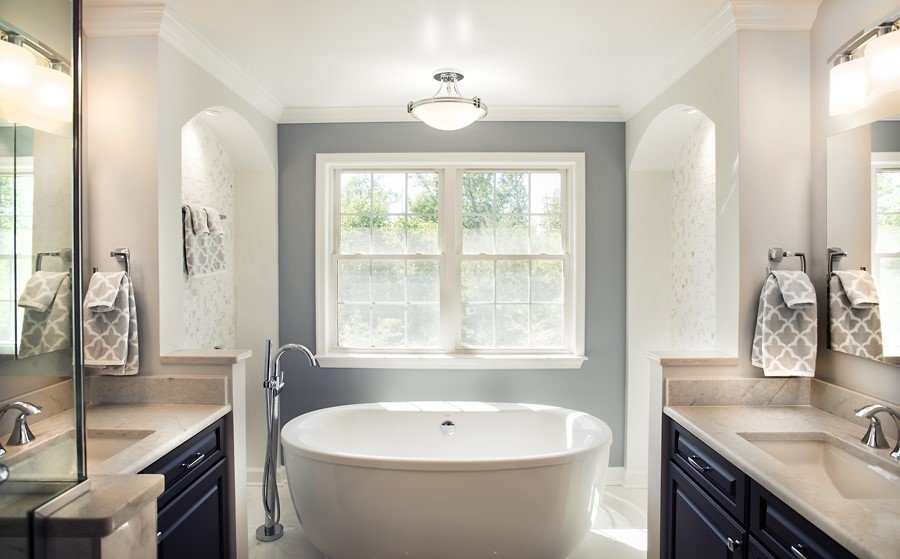 Free-standing tubs are trending these days. A gorgeous free-standing tub is a good alternative to a built-in option in your master bath. The right bathtub will provide an artistic element for your
new bathroom so it gives the bath that "wow" factor and becomes a natural focal point. Many of today's free-standing tubs feature flat bottoms.
4. Enhance Your Shower
Enlarged showers with frameless glass doors are now trending. Shower tiles give you the opportunity to introduce an attractive pattern or a contrasting color. Add special features like a shower seat and an alcove for shampoo to add convenience to your new shower.
5. Add Luxurious Smart Bathroom Features
Smart bathroom
features like the U by Moen transform your shower into a personalized experience. Create a preset or use voice activation for your ideal water temperature and start your shower remotely with your smartphone app. Towel warmers add luxury, while touchless features and self-cleaning technology make your master bath more hygienic. Smart devices for toilets turn on a built-in LED nightlight and provide heated seats.
6. Ask for a 3D Rendering
AC Remodeling gives homeowners in the NW Washington DC area the personal attention they deserve during their master bath transformation. A detailed 3-D rendering of your private master bath remodel will show you what to expect.
3D Rendering
Finished Result
Creating Your Custom Remodeled Bathroom
Homeowners living in the NW Washington DC area can take advantage of kitchen, basement, and bath renovations by family-owned A+-rated AC Remodeling. Ask us about the latest in home automation. For further information, visit
https://acremodeling.com
.
---
What are you planning for your custom master bath this Fall?
AC Remodeling can help bring your ideas into reality.
Call us today for a consultation!
240-632-1660
Possibilities are endless to creating the bathroom of your dreams…