by Sharon Penn
Looking for basement remodeling ideas? I get it, there are so many options and usages for any basement. I've lined up 5 amazing ideas that are trending right now
Imagine remodeling your basement, upgrading your amenities and adding more space to your home to make your lifestyle more luxurious and convenient. For some, that means creating a high-tech home theater or a private workout space, while others envision an executive home office or a man cave away from the noise of family activities. If you are fortunate enough to have a basement, you can customize your space to fulfill your dreams.
While basement remodeling is a home improvement investment, the good news is that you will make your home more appealing and you can expect to recoup an average of 70% when you sell. AC Remodeling, an experienced and reputable Gaithersburg basement remodeling company with an in-house design team, can help you plan your project and make your ideas come to life.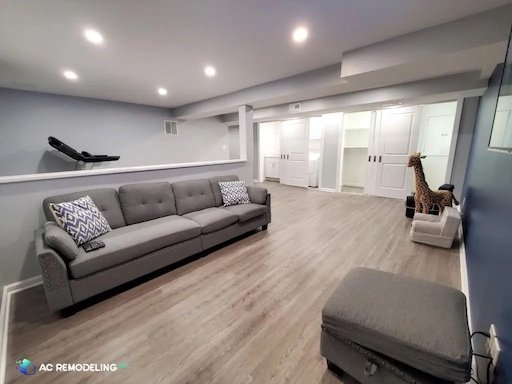 Here are some ideas for functional basement remodeling ideas that are trending right now:
1. A High Tech Home Theater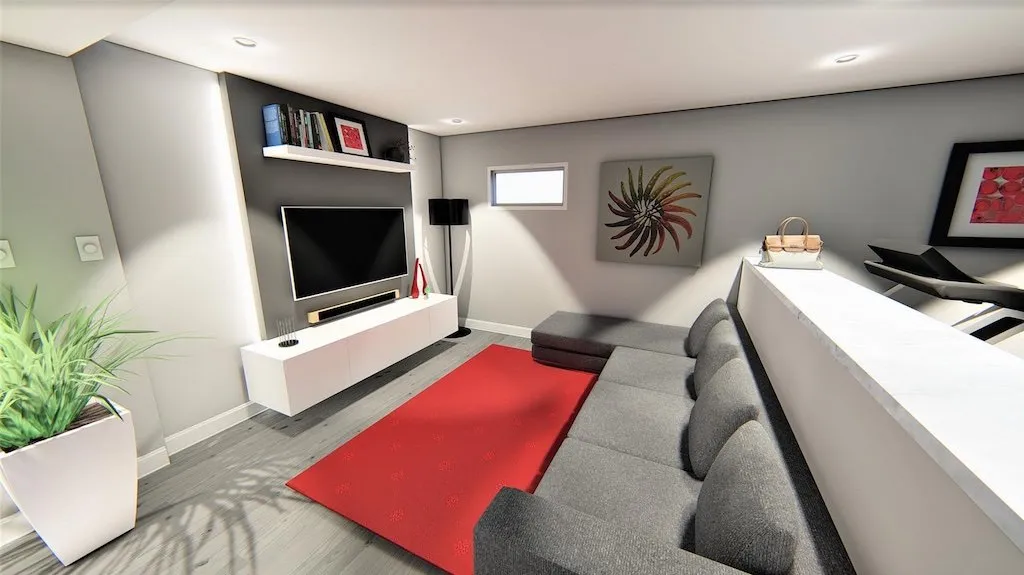 Dramatic lighting and motion seating can add to the ambiance of a high tech basement home theater. The space should be dark enough to enjoy the latest film or take a trip down memory lane with a favorite old movie. Your mini theater can have tiered seating or an L- or a U-shaped sectional. If you include a bar, a long narrow console table facing the screen can provide additional seating. Home automation systems will give you one-touch electronic, lighting and climate control.
2. Your Private Home Office
Since many of us have become accustomed to working from home over the past 2 years,  balancing your laptop while you sit in the living room is not really a good solution long term.
Your basement is ideal as a dedicated home office space away from the main living area upstairs with everything you need to get things done.
Whether you need a large executive style desk with room for multiple computer screens or a long narrow quartz surface to accommodate several family members, remember that lighting and ergonomics are important factors in your home office.
3. A Family-Friendly Playroom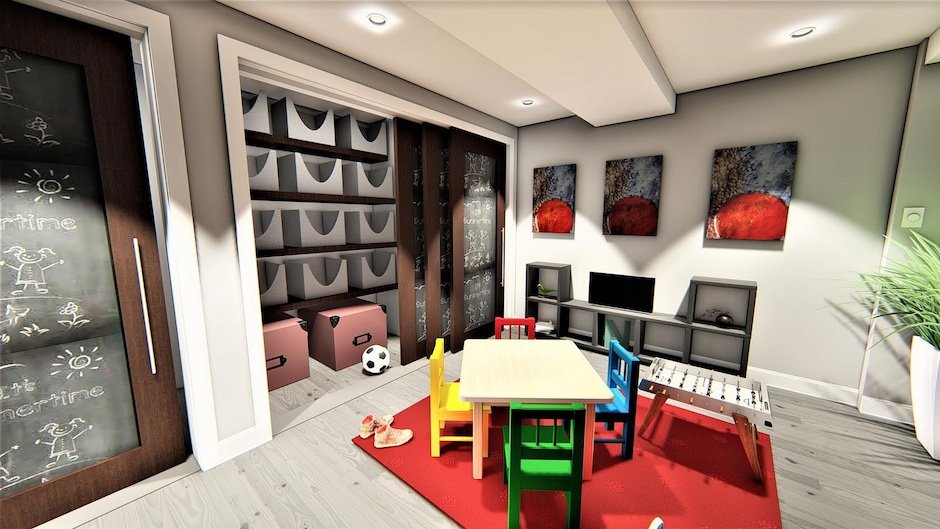 If you have young children, an inviting basement playroom is a great way to give the kids their own space while keeping the upstairs living spaces neat and organized.
Storage shelves, bins, a reading corner, and a craft area are all great ideas to incorporate in your basement remodel design. Depending on your children's interests, you might want to include a stage, electronic game capability, and a dress-up closet.
Make sure to leave some open space for physical activity!
4. A Convenient Functional Personal Gym
Keep away from crowded gyms and work out in the privacy of your own home with a convenient basement gym. There is no need to dedicate the entire basement space. Just choose the right equipment so it will fit in the space allotted without unnecessary clutter. Make sure to allow for appropriate ventilation and position power outlets near electrical equipment to avoid tripping over wires while working out.
The man of the house deserves a place to hang out with the guys and watch the game without fighting for the remote. A perfect man cave can have hidden wiring and cables for Internet, cable and satellite service as well as surround sound and capability for gaming electronic devices. You will probably want to include a wall mounted oversized flat screen TV, a comfortable seating area, a built-in bar and a poker or pool table.
Creating your Custom Remodeled Basement
Homeowners living in the Rockville, MD area can take advantage of basement, kitchen and bath renovations by A+ BBB-rated AC Remodeling. For further information, visit our Home Remodeling Services page!
---
What are you planning for your basement this summer?
AC Remodeling can help bring your ideas into reality.
Call us today for a consultation!
240-632-1660
Possibilities are endless to creating the basement of your dreams...