The question "how long does it take to renovate a bathroom?" has many answers. The bathroom remodel timeline for a simple makeover on a half-bath could be relatively quick – between 13 and 15 business days. A complete renovation of a large master bath with extensive plumbing and electrical work could take much longer. The professional design team at AC Remodeling can help you with a custom time estimate for your project.
AC Remodeling, the premier bathroom remodeling contractor in Bethesda, MD, can outline some of the factors you are likely to discuss in consultation with an expert design consultant. At AC Remodeling, we take the time to discuss every aspect of your project, including your goals, wish list, expectations, minimum needs, budget, and time constraints.
Be sure to bring up the following questions during the planning phase before you design and build your new dream bathroom to help know how long it takes to renovate a bathroom.
How Long Does it Take to Complete a Bathroom Renovation on a Master Bathroom?
At AC Remodeling, we have an optimized design process that allows us to coordinate with our clients throughout their projects and avoid expensive mistakes later on down the line. Doing this ensures that we meet our customers' expectations every step of the way.
Before you sign with any contractor, ask them about their design process. Is there sufficient time for consultation, planning, coordinating supplies, pulling permits, and other essential activities? Ask how they measure up to the AC Remodeling master timeline.
Week 1: The Initial Consultation
When you call AC Remodeling, you'll speak with an experienced consultant and schedule your in-home initial consultation to develop your ideas. There, you'll have an idea of the overall bathroom remodel cost and the time we'll need to make your project happen. We'll take the time to discuss your options and give you the information you need to make an informed decision about them.
Week 2: Design Ideas and Scope of Work
During the first two weeks, we develop concrete plans based on what you've told us about your old bathroom and information gathered from the design meeting and site visits. We make sure that we've answered all your questions and that we understand what we need to do before the project starts.
Weeks 3-5: Developing the Project With 3D Design
Once our design team is on board with your project, you'll talk to the whole team. They continue to develop the details of the project and use a 3D bathroom design to model what your renovated bathroom will look like once we have finished the project. Here you will have the opportunity to work with them and make some minor changes in the design. After we sign the contract, we will obtain permits for construction and line up suppliers for materials that we will likely need.
This collaborative development period adds time to the project, but it accomplishes the following crucial objectives:
ensuring that the paperwork for the project is correct and in hand before the project's start date
allows you to have a clear visualization of what your remodeled bathroom will look like
avoiding delays caused by out-of-stock products or supply chain disruptions
Weeks 6-11: Making the Project Happen
Once the project starts, we'll begin with demolishing your existing bathroom. We install the plumbing and electrical systems first, followed by the drywall, tile, vanity, and fixtures. Any unique elements, like custom countertops, artwork, ADA accommodations, and other personal touches, will also occur during this phase. Throughout this whole process, we will keep in constant communication with you regarding the progress of the project.
Week 12: The Final Inspection
Post-construction, after the work is done, we review the results together. Your satisfaction is the ultimate goal, and we won't stop working on your project until we've gone through a walk-through with you and made certain that we've achieved everything you need.
Bathroom Renovation Timeline
Is it possible to renovate a bathroom more quickly? Possibly. However, a quicker approach can lead to problems throughout the process that impact your overall satisfaction.
Neglecting time for design planning early on could lead to the completed bathroom being technically flawless but not right for you. At worst, mistakes during planning could lead to catastrophic design failures, cost overruns, and expensive repairs on installations that the contractor should have done the first time.
Rushing the actual construction process is a mistake. A timeline that does not provide enough leeway for preconstruction planning, material arrival, and workers and technicians checking their work will cause otherwise avoidable issues.
At AC Remodeling, we take pride in our work, and we value the customers who have put their trust in us. We refuse to take shortcuts or mislead our customers with completion dates that are not feasible. We answer the question, "how long does it take to renovate a bathroom?" with a straightforward answer.
How Long Does It Take to Renovate a Small Bathroom?
The timeline above reflects our time frame for a typical master bathroom remodel and renovation. Naturally, if a bathroom project requires less work than average in one area, we might be able to complete the project in three or four weeks of construction rather than the usual five. A smaller bathroom might not take as long, particularly if it is only a half bath.
Renovations that do not involve substantial changes to plumbing or electrical work might not take as long, but it would still be unwise to rush them. You don't want to rush through making design decisions.
If your renovation project involves repainting and new tile work but leaves the existing space and layout of the shower, sink, electrical lines, and toilet unchanged, you might be able to expedite construction based on the availability of materials and labor. Overall, you could expect to have your bathroom done in less time but with the same level of quality and precision. However, unexpected circumstances can arise without warning that may require additional time to properly fix.
How Long Does a Bathroom Renovation Take if There Are Custom Features?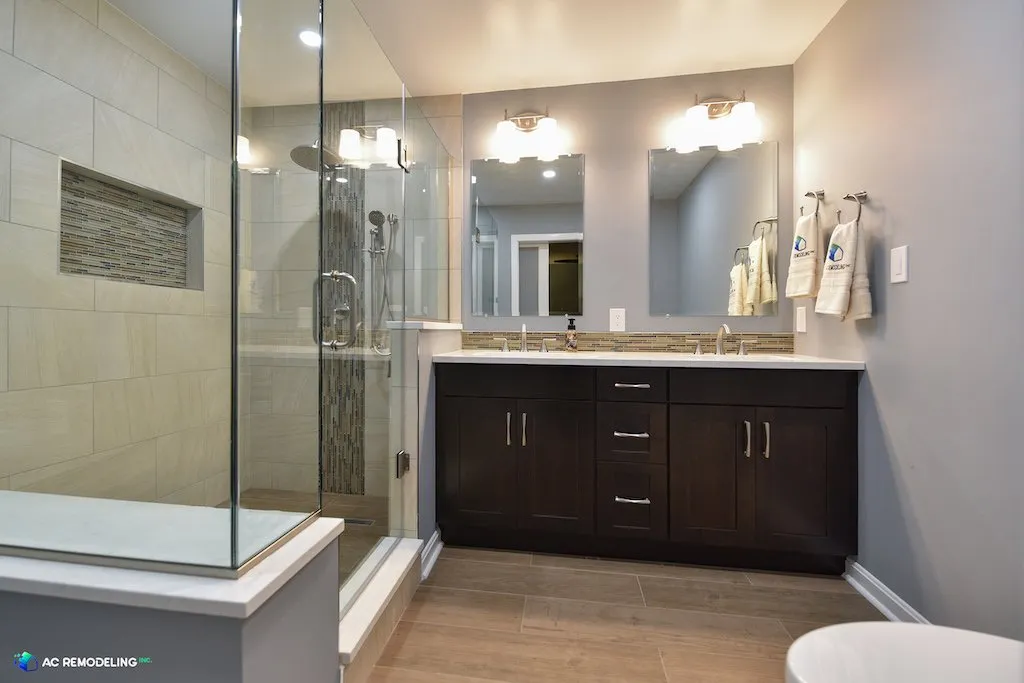 Just as smaller bathrooms can be quicker, some projects require additional work and might need more time. We strive to finish every project on schedule, especially in challenging and unusual cases. If you are considering any of the following renovations, budget for a few days to a week of extra time.
Accessible Bathrooms
Some accessible bathrooms have features like grab bars as well as more time-consuming features like custom vanities for wheelchair access, integrated assistive technology for vision or hearing impairment, and other equipment like lifts. Most of this equipment should take only a little extra time to install.
Smart Bathrooms
We can also install personal assistant devices, such as sound systems, heating systems, and other devices. We'll make sure you can connect them to your WiFi network and use them before the final walk-through.
Conversions and New Construction
If you need to convert a room that is not a bathroom into one, completely change your floor plan, or build a new bathroom as an addition to your house, let us know. The project might take a bit longer than a standard bathroom renovation because it requires new plumbing and wiring.
Book a Consultation Today
If time is a key consideration for you, don't delay in evaluating contractors for the work. Contractor schedules fill up quickly, especially during the spring and summer months when the weather is warm. Allow yourself time to obtain estimates from a couple of contractors and make an informed decision between them.
How long does it take to renovate a bathroom? It won't happen until you start the process. Make your dream bathroom a reality by calling AC Remodeling. You can reach us by phone at (240) 632-1660, request a consultation online, or chat live with a customer service representative. And if you found this article helpful in answering, "how long does it take to do a bathroom renovation?" Please share it with others!