When it comes to bathroom remodeling in Rockville, MD, AC Remodeling is the contractor you can trust. Our team of talented designers and contractors have a combined over 25 years of experience making hall and master bathroom remodeling dreams become a reality.
Bathroom Remodeling Services in Rockville, MD
From a hall bathroom to a full master bathroom remodel, you can trust the professional renovation experts at AC Remodeling. Customer satisfaction is our top priority, and we will guide you throughout the process. Our excellent client service, attention to detail, and years of expertise will ensure that your experience with us is positive.
Full-Service Design and Build Rockville Bathroom Remodeling Company
Our expert team of home remodeling designers, experienced contractors, and renovation specialists will work closely with you to understand your vision and create a customized plan for your bathroom remodel. We have the resources, knowledge, experience, and expertise to complete every aspect of your renovation with the utmost craftsmanship, quality, professionalism, and efficiency.
Why Choose Us for your Rockville Bathroom Remodeling Project
Bathroom renovation can be stressful -

 working with our professional designers and home remodeling contractors transform the process into an exciting journey.

Clean and transparent bathroom remodeling services -

 you'll never feel like you're "getting the runaround" with AC Remodeling because your project manager keeps you informed along the way.

Locally owned and operated family business -

 We live and work in your community and always promise to treat your home as our own. Our devotion to quality is never compromised.

Concierge home remodeling process -

 By combining personal style, functionality, and quality work in all of our designs and guiding you throughout the process, you'll be extremely satisfied with the results.
Our Montgomery County Bathroom Remodeling Process
In-Home Consultation
After learning about your style, wish list, and budget on a phone call, we can offer an in-home consultation to inspect the bathroom and provide a ballpark estimate.
Bathroom Design and Contract Approval
Once we have decided we are a good fit for each other and receive the initial design retainer, the design process begins. Starting with a design consultation and ending with advanced 3D renderings showing you precisely what your new Rockville, MD bathroom could look like.
Meet Suppliers and Order Materials
For most of our customers, this is often the part of the bathroom remodeling process that can cause the most anxiety. But don't worry; we've made this easy, stress-free, and exciting! Your project manager or design lead will set up appointments with suppliers and join you to help select your lighting, countertops, fixtures, tile, and other materials.
Construction
Every bathroom remodeling project starts with a complete gut of the space. We replace everything down to the thresholds, tiling, walls, etc. Your new Montgomery County bathroom will be 100% brand new.
Final Inspection
The last phase is the final inspection. Our superior commitment to quality and perfection requires us to make sure every detail of your bathroom has been completed correctly and installed properly.
Your new bathroom could look like this!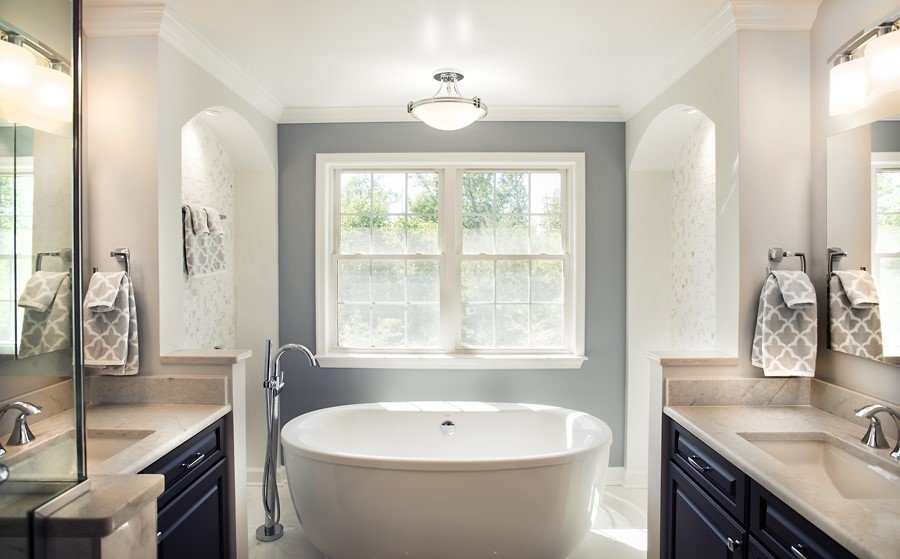 The Top Home Remodeling Company in Rockville, MD
AC Remodeling has been the top design and build contractor in Rockville, MD for many years! You can see from our glowing reviews that we are extremely responsive, detail-oriented, and focused on helping you make informed decisions. We take great pride in completing your new bathroom, dream kitchen, or upgraded living space. Don't wait any longer, call today to learn more about our bathroom remodeling services.
Laura Jackel
January 28, 2023.
AC Remodeling remodeled our master bathroom and we love it. They remodeled our basement in 2020 and we loved it so much, we chose them again. Their work is always thorough, clean, and they work with you closely. Alex shows up every day to verify things with the crew and encourages us to ask questions and communicate with the crew as Well. That is one of the things that impresses me the most. Alex always shows up and is heavily involved whether they are remodeling an entire basement or a master bath. I love our master bath now. It is not a standard bathroom layout, but now we have a much larger and comfortable counter for both of us, the tiled niche is lovely, and a beautiful shower. We have a small toilet shower room, so the pocket door is great to increase the space, and the tile work is a 10. I am picky and I enjoy seeing it every day. To me, if a new remodel feels like home within a few days, I will go back to this company again.
debbie rorabaugh
December 18, 2022.
The owner of this company, Alex and his wife, are very involved in the total process of the renovations we had done at our house. Alex we always available to answer any questions. He guided us through the selection process of the finishes and helped us create the kitchen we desired. He did such a good job we called him back a few years later and worked with him to redo our master bathroom. It has been a pleasure to work with this company. They are quality and stand behind their work. We are 10 years into our kitchen renovation and still very pleased with the outcome.
Peter Klover
May 18, 2022.
From our first meeting/consultation to the completion of our basement remodel, Alex, Carolina and the team at AC Remodeling took the time to listen to our thoughts and present us with a design, now finished, that we are incredibly happy with! Ours was a tricky space to work with, but the resulting remodel is a wonderful refresh to the dark, dank space it was. They and their work crew were always professional and insistent on using quality materials. Even after completing the remodel, Alex and his team promptly answered our calls and follow up questions. We will gladly hire them again for future renovations. Thanks Alex and team!
Bret Sellman
March 25, 2022.
We couldn't be more happy with our experience working with Alex, Carolina and their team. We have had many contractors complete numerous projects on this and other houses, but working with the AC Remodeling team has been the best, hands down. Everything, from the design work to their simplified process for selecting cabinets, appliances and tile to their top quality craftsmanship. But, the best part of all was the people. The entire crew are true professionals. They always respected our house and our space and cleaned up before they left each evening. We really enjoyed working with them and chatting with them in the morning before they started and every evening to see what they accomplished that day. We will definitely work with AC Remodeling in the future and would recommend them for any remodeling job without reservations.
Michelle Olenoski
February 6, 2022.
AC Remodeling renovated my basement and a bathroom. Alex and Carolina and their team were great to work with throughout the entire process, ensuring I was satisfied. I was picky at times with my selections (I wanted marble in a basement bathroom for example!) -- and Alex was flexible to accommodate and make sure everything matched well and was completed with quality. I would definitely work with them again and recommend!
Stephanie Murphy
October 29, 2021.
Alex, Melissa, Carolina and the entire team were wonderful to work with from the beginning. They understood the family challenges, listened to what we needed and worked through each step with us. We ended up with a beautiful, new bathroom, repaired kitchen and all new plumbing. The entire team was so thoughtful and considerate about our space. Can not recommend more highly.
Eden Durbin
July 13, 2021.
AC Remodeling was the best thing that ever happened to us. We will never do another home project without them. They were clear, responsive, caring, knowledgeable, and always on time and on budget. They listened to us, help guide the way to make the right decisions, checked in on us regurlarly, and did beautiful work. We recommend them to all of our family and friends. You cannot go wrong with AC Remodeling.
Mary Anne Knutson
November 23, 2020.
2020 Update: I have since used Alex for another bathroom and a complete kitchen remodel, and he is as perfect as ever! We actually left the house for six weeks while he was doing the kitchen, to make it easier for me, and him. I didn't lose a wink of sleep over not being there. I can't imagine having any work done without Alex. I've also had smaller projects, painting, half bath, and front door. I highly recommend Alex, Carolina, and their team. They are expertly skilled, detail oriented, and so very careful with your home and your project. The pricing and project plan are clear and detailed, the team is proficient, polite, and extremely skilled, and from top to bottom they are committed to making you happy. My bathroom is spectacular and the entire process was pleasant. My project was a major overhaul of an onsuite master bath for me. Actually it was a tiny walkin closet and a tiny bathroom. We combined them into a larger bathroom with a dressing area. From the beginning Alex is clear, concise, and very knowledgeable. He lays out the project for you and gives you info on choices you have to make. He accompanied us to look at tile and fixtures and explained the pros and cons of the ones we were considering. He ordered, picked up and delivered everything. I mean everything. Tile. Fixtures. Rags. Garbage bags. Lumber. Door. Bottled water for his team! The project started very quickly. Throughout the project, the carpet and stairs were covered, even when the workers were gone for the day. When they were there, additional tarps were laid down. Every night the area was cleaned and packed up, the garbage was removed, etc. There was even a pole system tarp blocking off the area so dirt and debris were contained. There were 'challenges' in my project as there always are. The subfloor was mush and had to be replaced, as did the bottom of a few studs. Alex again showed me the issues, clearly laid out the options, but let me choose. I have heard horror stories of missing contractors, long delays, shoddy work. So I chose AC for two reasons, the 5 star rating and a photo of one of his projects that I loved the wood look tile on. So I feel happy and proud to add my own 5 star to the reviews.
We have been using AC remodeling since 2012 when they renovated our kitchen. That experience was so good, we've used them to renovate 2 baths, a french door, and numerous painting and fix-it jobs. Alex and his crew are extremely talented, do excellent work, always clean and tidy and within budget. We give them our highest endorsement. Truly, you cannot find a better contractor.
Jennifer C
March 9, 2020.
AC Remodeling just recently finished remodeling my master bath, and I am so happy with how it turned out! I had a vision, but needed help with selecting finishes. Alex and Carolina are wonderful to work with, and will guide you every step of the way (if that's what you want). I would not hesitate to recommend AC Remodeling to anyone wanting to remodel a bathroom. I am also dreaming of a kitchen remodel one day, and I know the first place I will call!
Advanced 3D Design and Modeling
Visualizing the completed bathroom remodeling product is challenging for many of our clients. It isn't easy to picture the ideal hardware, tile, accent colors, and hardware that goes well together to create a relaxing spa-like bathroom. That is why we have invested in and mastered 3D design and rendering technology.
We will work with you to create the bathroom of your dreams! We can help you envision your newly remodeled bathroom in your house by utilizing 3D rendering technology. Employing this cutting-edge equipment is a fantastic approach to bringing out all of our client's unique style preferences while also maximizing the renovation process's efficiency.
Let's get started building your dream bathroom today!
Professional Designers and Experienced Contractors in Rockville, MD
Exceptional Customer Service
We make sure every customer is delighted in an industry where it can be difficult. Throughout our process, you will learn that our #1 goal is to make the bathroom remodeling project as easy and stress-free as possible, down to the minute details like helping you schedule a visit to a local bathroom remodeling showroom to pick tiles or hardware. For us, customer service is paramount, starting with setting up a consultation that works for your schedule!
Attention to Every Bathroom Remodeling Detail
At AC Remodeling, every detail of your renovation is important to us. Our team members are trained in their fields of bathroom design and construction for maximum quality of workmanship on every project. In addition, we pride ourselves on utilizing top-of-the-line materials to ensure your new Rockville bathroom's beauty and durability.
Best Bathroom Remodeling Rockville MD
We are the top kitchen and bath remodeling contractor in Rockville, MD, because of our experience, attention to detail, responsiveness, and exceptional customer service. We take pride in creating luxurious, relaxing, and spa-like bathrooms. To learn more about our work or ask us questions, give us a call today to set up an appointment for your design consultation!
Our experience with Rockville bathroom remodels allows us to help foresee common issues that may arise during construction. For example, Rockville homes built before 1970 may have plaster walls, improperly supported subfloors, or rusted cast iron pipes.
We know that every client is different. Therefore, we assess each client's needs and desires to create a personalized renovation process for their home or business. Our team of experienced contractors provide bathroom remodeling services that ensure your vision becomes a reality while meeting your timeline and budget expectations.
Home Remodeling Services In Rockville, Maryland
Whether you want to upgrade one space or multiple, we can provide home remodeling services to exceed your expectations.
Choosing the correct kitchen remodeling contractor in Rockville, MD is important. Our staff has the knowledge and equipment to exceed your expectations!
Hundreds of Rockville, MD homeowners have entrusted AC Remodeling with bathroom renovating tasks ranging from half baths to master bathrooms.
Do you want to convert your Montgomery County, Maryland basement into a beautiful and useful area? Perhaps you yearn for a comfy family room, playroom for the kids, or an adult entertainment space.
You can save time and energy by integrating smart home automation into your Rockville, MD property. AC Remodeling provides the knowledge you need.
Rockville Bathroom Remodeling Guide: Most Common Challenges
After completing countless Rockville bathroom remodeling projects, here are some of the top budget-busting issues you may find after the walls come down and floors come up. (Don't worry, we do our best to consider this during the budget and proposal phase!)
Depending on the era when your home construction happened, some issues with the construction may have or could cause problems that you will need to correct. Planning can help eliminate higher costs and frustration as you or your contractor demo the current bathroom.
An issue common to Maryland is hard water, measured by USGS at an average hardness of 118 PPM. Hard water contains high levels of certain minerals that, over time, cause build-up, decreasing the water quality and even clogging up the drains.
Older copper pipes may have developed pinholes in homes without water softeners. Hard water, standard in Rockville, causes build-up and corrosion inside the copper pipes. As the corrosion spreads, it destroys the copper, and pinholes develop. When showers and sinks run, water running through the pipes seeps out through the pinholes and damages the framework and surrounding walls.
If your home has copper piping, it is best to budget for and replace the water lines, even if you do not see any pinhole damage now. Using a water softener may delay corrosion to the pipes, but eventually, there will be a problem.
Cracks in the Acrylic Shower Base
Acrylic shower bases are a popular, cost-effective item but, over time, can develop cracks from general wear and tear, the wrong underlayment, or improper installation. In addition, water leaking through the cracks can destroy the shower foundation underlayment and the framing and joists below.
Replacing an acrylic shower base with porcelain tile can be attractive and offer high density and low moisture permeability advantages. If your budget is tight, you can install a tile shower base with tile walls or tile the bottom and use an acrylic shower surround.
The County approves two systems for installing complete waterproofing shower bases and walls –  Schluter Systems, or Wedi systems.
Known Issues with Rockville Bathrooms Built Before 1970
Nothing is more frustrating than tearing into a remodel project and finding issues outside your planned budget. Was your home built before 1970? If so, you need to read on to discover the potential problems that will significantly impact your remodel budget in time and dollars.
Cast iron plumbing became common in homes in the 1930s and was the only available option until the 1970s, when PVC became more common in plumbing projects. PVC is a durable, cheaper, and more flexible product for home construction.
Cast iron pipes are in homes built before the mid-1970s. Although considered a durable product in their day, the lines can build up with mineral deposits and develop rust over time.
Older homes with cast iron plumbing and sewer lines are at risk of damage from tree roots that grow into the water and sewer lines. These can cause black water to enter the pipes, rust contamination, fungus and bacteria growth, and resulting issues to the plumbing inside of the home. Some problems can create clogged or slow drains, water discoloration, foul smells from sewer gases, and more.
Replacement of cast iron pipes within the home during a remodel should be a priority.
Many older homes were built without using plywood or waterproofing material as the subfloor in bathrooms. Current standards for construction use plywood, then a waterproof material, before installing the shower base.
If your bathroom dates before the 1950s, it may have no subfloor. Many bathrooms were constructed with 1 x 4 lumber nailed diagonally to the floor joists. Over time, moisture on these boards can deteriorate the wood and make the floor unstable.
While the bathroom remodeling project is underway, it is best to install a plywood subfloor and waterproof material under the shower base.
Plaster Walls Without Proper Insulation
Older home walls were often built with lathe and plaster and had no insulation. If planning a remodel on your bathroom, removing the plaster and lathe and replacing it with drywall is a practical step.
Repairing a plaster wall is labor-intensive, which drives up the cost. In addition, plaster does not meet energy-efficient thermal standards. As a result, plaster walls attract moisture, which are breeding areas for mold and mildew.
By removing a plaster wall, insulation beneath new bathroom drywall creates energy efficiency for your bathroom. Several moisture-barrier types are available for use, so check with your home improvement center for costs.
Wiring in older homes can be a big concern, especially in bathrooms where hairdryers, curling irons, and similar gadgets are used. The main problem is if the wiring is grounded or ungrounded.
An ungrounded plug can be the source of an electrical fire, shorted-out circuits, shocks, and more. It is ungrounded if any outlet in your home only has the 2-hole (prong) plug as all grounded outlets have 3-holes.
Budgeting to have an electrician run wiring to the bathroom that meets the safety code is a smart idea.
Before You Start Your Bathroom Remodel ...
We've addressed the structural issues of plumbing and electricity, but there are also some design and ambiance characteristics you may want to consider.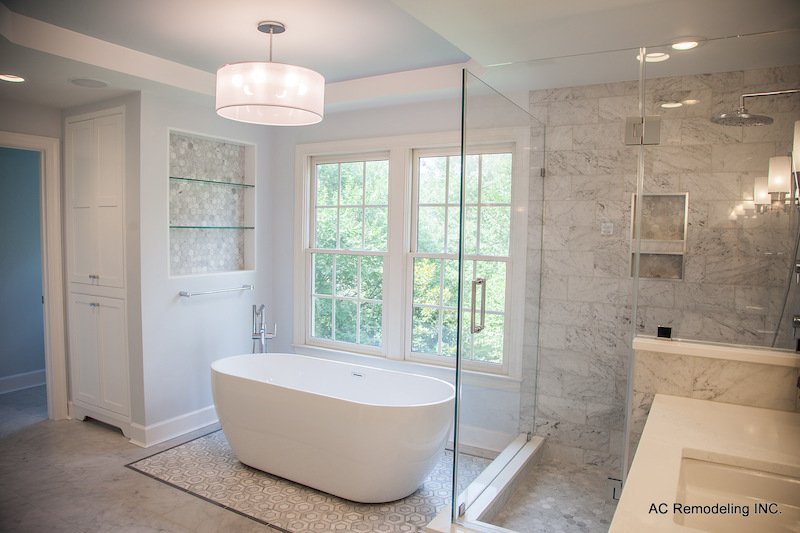 Best countertops and surfaces to combat hard water
Since hard water is a problem throughout the state and Rockville, you will want to choose surfaces for the bath, shower, sinks, and countertops that better resist hard water deposits.
While porcelain tile is used in many showers, it requires regular cleaning to remove water spots. Many installers recommend wiping down the shower walls and fixtures with a squeegee or towel after each use.
Quartz and high-quality granite are suitable surfaces that are easier to keep clean than marble. Quartz is a natural stone and creates durable countertops when mixed with resin and other materials, and granite is cut and polished into the desired shape. Both quartz and granite should be cleaned with non-ammonia and non-alcohol (green) products. Marble is porous and needs to be sealed regularly (depending on use), and toiletry products can stain marble if spilled.
The fixtures you choose for the shower, bath, and sink should be midrange to high quality for durability, performance, and ease of cleaning. Many plumbers and bathroom installers have a favorite brand, but if pricing fixtures to establish your remodel budget, these are a few of the favorites:
Less expensive fixtures will not hold up to regular use and stain or show watermarks. A high-quality fixture will also be easier to find replacement parts if needed.
Your Trusted Bathroom Remodeling Contractor Familiar with Rockville, MD Homes
As a reliable, trusted, and experienced Rockville and Bethesda bathroom remodeling contractor, we can spot potential issues with your remodel before we start and do the work efficiently to save you headaches, frustration, time, and money! Before you know it, your bathroom remodeling in Rockville, MD, will be complete, and you can enjoy an updated, energy-efficient bathroom!
Our Bathroom Remodeling Service Area: