Avoid the hassle of home remodeling in Rockville, MD, by partnering with the best in the business.
Rockville, MD, is a bustling city of over 67,000 people. Residents enjoy the upscale shopping centers and restaurants that make Rockville one of the largest retail hubs off Interstate 270. The city's impressive history traces indigenous settlements back as far as 8000 BCE.
Some recognize Rockville's historic buildings like the Beall-Dawson House and Glenview Mansion. While cultures have come and gone through the area over the centuries, the city remains a popular destination for travelers. Many outsiders closely associate it with neighboring Kensington and downtown North Bethesda.
AC Remodeling is proud to bring quality home improvement services to the Rockville community. Everyone can benefit from remodeling projects regardless of their property size. That is why we do our best to provide affordable and reliable services to every client.
Full-Service Design-Build Rockville Home Remodeling Contractors
Our company ensures that every resident can access a range of full-service remodeling options. Whether you need a new kitchen, bathroom, or basement, we specialize in home remodeling services. Rockville families trust us to provide ethical and reliable products to improve their homes.
AC Remodeling doesn't handle partial projects. Instead, we succeed by designing and constructing your remodeling project from start to finish, including pulling all necessary permits. Modern homes and technology are becoming more popular in Montgomery County; we help our customers incorporate these fantastic features into their spaces.
We will map your floor plan and create custom rooms to suit your preferences. Nothing is more important to us than detail. That is why our contracting team carefully completes these time-intensive projects so you can be confident about receiving the best customer service and results.
Our numerous five-star reviews and excellent track record speak for themselves, proving that there is no better company for home remodeling in Rockville, MD, than AC remodeling.
Rockville, MD Kitchen Remodeling Company
Don't let a kitchen remodel in Rockville, MD project overwhelm you. We offer 3D designs to show you how your renovation will look.
Remodeling your kitchen will significantly improve your property value in Rockville, MD. If equity isn't your current focus, think about how much you will enjoy the fresh new space. Our home renovation contractors ensure your new kitchen design is practical for your lifestyle.
An open kitchen design is an excellent choice for anyone looking to save space and introduce natural light into the room. Our team provides quality materials for your backsplash, floor, and countertops. We also offer an exciting range of innovative smart home applications and appliances.
Remodeling your kitchen can make a bold statement for your home. Rockville residents value their individuality, so invest in a kitchen that shows it. Qualified electricians and designers are ready to provide the best solutions for your space.
Our remodeling services are affordable and reliable. By choosing us, you can avoid the headaches of cheap, lackluster solutions for your home. You can save time and money working with AC Remodeling.
Expert Bathroom Remodeling in Rockville, MD
Downtown Rockville is full of life and commotion near its historic buildings and retail locations. It's nice to be able to go home and quietly relax in your bathtub and private spaces. A bathroom remodel is the perfect way to set the right mood for your room.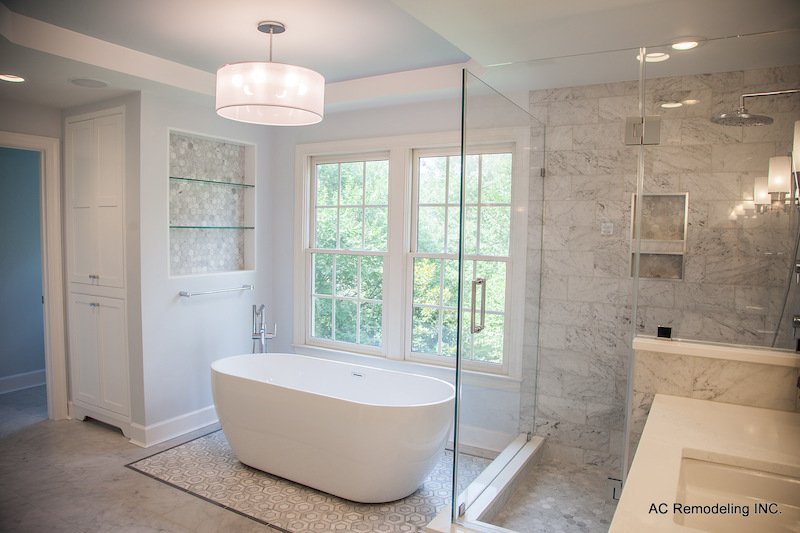 Our company provides beautiful solutions for bathrooms regardless of size. Homeowners trust us to improve their bathrooms with our expert and meticulous construction strategies. We consider every angle of the design, including:
Floor, countertop, and wall materials
Color
Lighting and fixtures
Space optimization
Every feature works in unison to create a comfortable environment for your bathrooms. We can offer excellent solutions during your consultation. If you have preferences for custom vanities or tiling, we will source the best materials for the job.
We work with premier electricians to ensure your bathroom lighting experience is just right. We can provide elegant wall light fixtures or ambient accent lighting.
Why settle for anything less than your dream bathroom? Start your home improvements with a bathroom remodel in Rockville, MD. The experts at AC Remodeling guarantee customer satisfaction.
Rockville Basement Remodeling Contractor
Basements are a perfect space to relax or entertain guests. Many home buyers in Rockville, MD, want to find a property with spacious and impressive basements. You can significantly boost the value of your home by investing in a basement remodel.
This project is a large undertaking, so you should enlist veteran remodeling contractors. We will design your basement for comfort and attractiveness. During your consultation, we can develop parameters that will set your basement apart.
The beauty of a Rockville basement remodel comes from its flexibility. We can set you up for success regardless of how you plan to use the space. Consider some of the many basement remodeling designs we can achieve for your family:
Lounging space for guests and entertainment systems
Downstairs kitchen or kitchenette
Spacious room for tabletop games or a play area
Bar and barstool area
Themed colors and designs to fit your aesthetic
Basements are a great place to change up the mood if your upstairs feels more stately. We can provide you with countless options to choose from when customizing your basement. We treat every home remodeling in Rockville, MD, like a piece of art.
Laura Jackel
January 28, 2023.
AC Remodeling remodeled our master bathroom and we love it. They remodeled our basement in 2020 and we loved it so much, we chose them again. Their work is always thorough, clean, and they work with you closely. Alex shows up every day to verify things with the crew and encourages us to ask questions and communicate with the crew as Well. That is one of the things that impresses me the most. Alex always shows up and is heavily involved whether they are remodeling an entire basement or a master bath. I love our master bath now. It is not a standard bathroom layout, but now we have a much larger and comfortable counter for both of us, the tiled niche is lovely, and a beautiful shower. We have a small toilet shower room, so the pocket door is great to increase the space, and the tile work is a 10. I am picky and I enjoy seeing it every day. To me, if a new remodel feels like home within a few days, I will go back to this company again.
debbie rorabaugh
December 18, 2022.
The owner of this company, Alex and his wife, are very involved in the total process of the renovations we had done at our house. Alex we always available to answer any questions. He guided us through the selection process of the finishes and helped us create the kitchen we desired. He did such a good job we called him back a few years later and worked with him to redo our master bathroom. It has been a pleasure to work with this company. They are quality and stand behind their work. We are 10 years into our kitchen renovation and still very pleased with the outcome.
Peter Klover
May 18, 2022.
From our first meeting/consultation to the completion of our basement remodel, Alex, Carolina and the team at AC Remodeling took the time to listen to our thoughts and present us with a design, now finished, that we are incredibly happy with! Ours was a tricky space to work with, but the resulting remodel is a wonderful refresh to the dark, dank space it was. They and their work crew were always professional and insistent on using quality materials. Even after completing the remodel, Alex and his team promptly answered our calls and follow up questions. We will gladly hire them again for future renovations. Thanks Alex and team!
Bret Sellman
March 25, 2022.
We couldn't be more happy with our experience working with Alex, Carolina and their team. We have had many contractors complete numerous projects on this and other houses, but working with the AC Remodeling team has been the best, hands down. Everything, from the design work to their simplified process for selecting cabinets, appliances and tile to their top quality craftsmanship. But, the best part of all was the people. The entire crew are true professionals. They always respected our house and our space and cleaned up before they left each evening. We really enjoyed working with them and chatting with them in the morning before they started and every evening to see what they accomplished that day. We will definitely work with AC Remodeling in the future and would recommend them for any remodeling job without reservations.
Michelle Olenoski
February 6, 2022.
AC Remodeling renovated my basement and a bathroom. Alex and Carolina and their team were great to work with throughout the entire process, ensuring I was satisfied. I was picky at times with my selections (I wanted marble in a basement bathroom for example!) -- and Alex was flexible to accommodate and make sure everything matched well and was completed with quality. I would definitely work with them again and recommend!
Stephanie Murphy
October 29, 2021.
Alex, Melissa, Carolina and the entire team were wonderful to work with from the beginning. They understood the family challenges, listened to what we needed and worked through each step with us. We ended up with a beautiful, new bathroom, repaired kitchen and all new plumbing. The entire team was so thoughtful and considerate about our space. Can not recommend more highly.
Eden Durbin
July 13, 2021.
AC Remodeling was the best thing that ever happened to us. We will never do another home project without them. They were clear, responsive, caring, knowledgeable, and always on time and on budget. They listened to us, help guide the way to make the right decisions, checked in on us regurlarly, and did beautiful work. We recommend them to all of our family and friends. You cannot go wrong with AC Remodeling.
Mary Anne Knutson
November 23, 2020.
2020 Update: I have since used Alex for another bathroom and a complete kitchen remodel, and he is as perfect as ever! We actually left the house for six weeks while he was doing the kitchen, to make it easier for me, and him. I didn't lose a wink of sleep over not being there. I can't imagine having any work done without Alex. I've also had smaller projects, painting, half bath, and front door. I highly recommend Alex, Carolina, and their team. They are expertly skilled, detail oriented, and so very careful with your home and your project. The pricing and project plan are clear and detailed, the team is proficient, polite, and extremely skilled, and from top to bottom they are committed to making you happy. My bathroom is spectacular and the entire process was pleasant. My project was a major overhaul of an onsuite master bath for me. Actually it was a tiny walkin closet and a tiny bathroom. We combined them into a larger bathroom with a dressing area. From the beginning Alex is clear, concise, and very knowledgeable. He lays out the project for you and gives you info on choices you have to make. He accompanied us to look at tile and fixtures and explained the pros and cons of the ones we were considering. He ordered, picked up and delivered everything. I mean everything. Tile. Fixtures. Rags. Garbage bags. Lumber. Door. Bottled water for his team! The project started very quickly. Throughout the project, the carpet and stairs were covered, even when the workers were gone for the day. When they were there, additional tarps were laid down. Every night the area was cleaned and packed up, the garbage was removed, etc. There was even a pole system tarp blocking off the area so dirt and debris were contained. There were 'challenges' in my project as there always are. The subfloor was mush and had to be replaced, as did the bottom of a few studs. Alex again showed me the issues, clearly laid out the options, but let me choose. I have heard horror stories of missing contractors, long delays, shoddy work. So I chose AC for two reasons, the 5 star rating and a photo of one of his projects that I loved the wood look tile on. So I feel happy and proud to add my own 5 star to the reviews.
We have been using AC remodeling since 2012 when they renovated our kitchen. That experience was so good, we've used them to renovate 2 baths, a french door, and numerous painting and fix-it jobs. Alex and his crew are extremely talented, do excellent work, always clean and tidy and within budget. We give them our highest endorsement. Truly, you cannot find a better contractor.
Jennifer C
March 9, 2020.
AC Remodeling just recently finished remodeling my master bath, and I am so happy with how it turned out! I had a vision, but needed help with selecting finishes. Alex and Carolina are wonderful to work with, and will guide you every step of the way (if that's what you want). I would not hesitate to recommend AC Remodeling to anyone wanting to remodel a bathroom. I am also dreaming of a kitchen remodel one day, and I know the first place I will call!
Schedule Your Rockville Home Remodeling Consultation Today
Why wait to get the quality service you deserve? Our team is standing by to deliver the best services in Montgomery County. AC Remodeling promises superior material and customer service for every client.
Become the envy of your guests and neighbors by getting a stunning home remodel. Every family is different, so let us help you express it. Our office staff will answer any questions about the remodeling process so you know what to expect.
Our construction contractors adhere to state and federal safety laws so that you can trust the work. We also make sure every home is clean after a project. We pride ourselves on fostering professional interactions between our material sourcing partners and clients.
Begin your home remodeling in Rockville, MD, today. Schedule your consultation with AC Remodeling by calling (240) 632-1660.
Let's get started with your dream home remodeling project!
Home Remodeling Services In Rockville, Maryland
We have the skills, experience, and customer-focused attention to detail to meet and exceed all your home remodeling Rockville MD expectations
Selecting the right contractor for your kitchen remodeling project in Rockville, MD is critical. Our team has the experience and tools to exceed your expectations!
From half baths to master bathrooms, hundreds of Rockville, MD residents have trusted AC Remodeling with their bathroom renovation projects.
Would you like to turn your Rockville, MD basement into a stylish and functional space? Maybe you dream of a cozy basement family room, kids playroom, or adult entertainment space.
Integrating smart home automation in your Rockville, MD home can save you time and energy and increase comfort and AC Remodeling has the expertise you need.