Adding top-of-the-line faucets to your bathroom sink is a simple way to add subtle luxury to your space. However, when choosing a bathroom sink faucet, you shouldn't only be drawn to what meets the eye. It's also important to consider how the faucet will work with your sink, the materials beneath the beautiful finish, which handle type is most suitable for you, and other factors.
And so, with a fine selection of spout types, handle arrangements, and colored finishes available, how do you decide which faucet type to use when remodeling or building a bathroom? This article will look at the 6 best brands of luxury bathroom faucets to give you a much better idea of what makes each brand successful in its own right.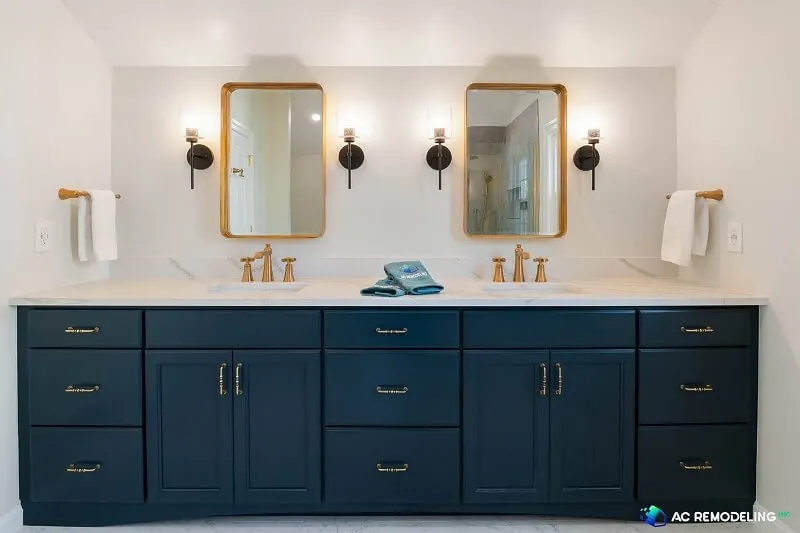 The Rohl brand is globally renowned for its high-end bathroom faucets, fixtures, fittings, and other kitchen and bathroom accessories. It is a company that encompasses multiple business models in one place and is quite popular for bathroom remodeling in Rockville, MD projects.
For example, it sells faucets imported from Italy and China in the U.S. and Canada under the Rohl brand. But besides being a distributor of other products, the company has also designed and manufactured its own product line of faucets.
Over the years, Rohl products have graced thousands of homes and commercial establishments worldwide, including Germany, Italy, France, North America, New Zealand, and Switzerland.
Featured Collections
With Rohl's luxury bathroom faucets, there is no end to the looks you can create for your bathroom, as they can all fit nicely with any bathroom design idea. So here's a closer look at each of Rohl's featured collections of upscale bathroom faucets:
The Apothecary Collection was inspired by the beautiful shapes of old apothecary bottles, now popular collectibles.
Designer Xander Noori was able to infuse nostalgia and warmth into any space with this collection's unique chamfered details, beveled edges, and balanced arcs. The products come in antique gold, matte black, polished chrome, and satin and polished nickel finishes.
The Palladian Collection takes inspiration from the 16th-century Italian architect Andrea Palladio. This collection combines the best of classic proportions with the flair of great Italian fashion, complemented with a transitional look. Its most prominent bathroom product is the Palladian High Neck Widespread Bathroom Faucet, which features strong handle angles and a shiny base.
Michael Berman, a well-known designer, created his American Moderne collection exclusively for ROHL. Berman's appreciation for streamlined design is reflected in the Graceline collection, which features sleek lines and industrial details. This collection has two types of bathroom faucet products: widespread and wall-mounted.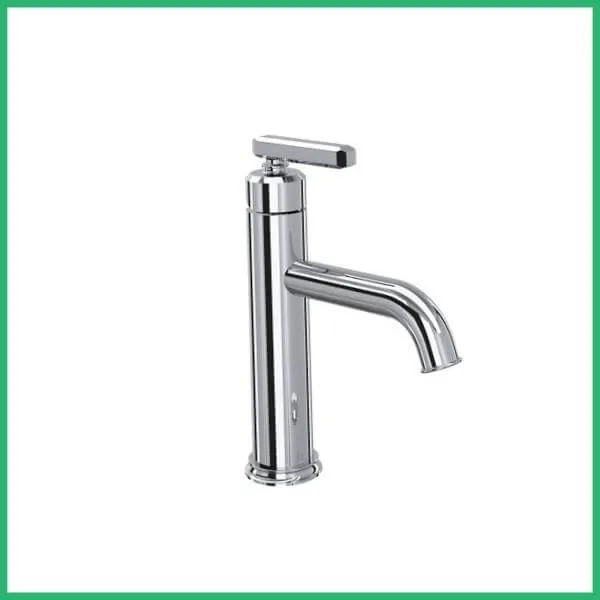 Ross Escalette started Newport Brass in 1987 to meet a market need for high-quality faucets and fixtures made of solid brass at a reasonable price. In 2002, the company was acquired by Masco, a leading manufacturer of brand-name products for home improvement and construction.
A key characteristic of the brand is that it was one of the first in the industry to offer various finish options. Due to their solid brass construction, Newport Brass products are impervious to the elements, extremely durable, and naturally corrosion resistant. Designed with minimal automation, highly skilled craftsmanship, and sleek, polished surfaces, Newport Brass products set the standard for quality.
Bathroom Faucet Collections
Newport Brass offers 61 unique collections of bathroom faucets, available in 26 finish options and multiple styles and pricing options. Here are 10 of their diverse product collections featuring high-end bathroom faucets:
Alexandria
Astor
Chesterfield
Duncan
Ithaca
Jacobean
Metropole
Skylar
Taft
Victoria
These collections include the following faucet styles and designs: Pull Down/Pull OutF Faucets.
Prep Sink & Bar Faucets, Widespread Faucets, Wall Mount Faucets, and Single Hole Faucets.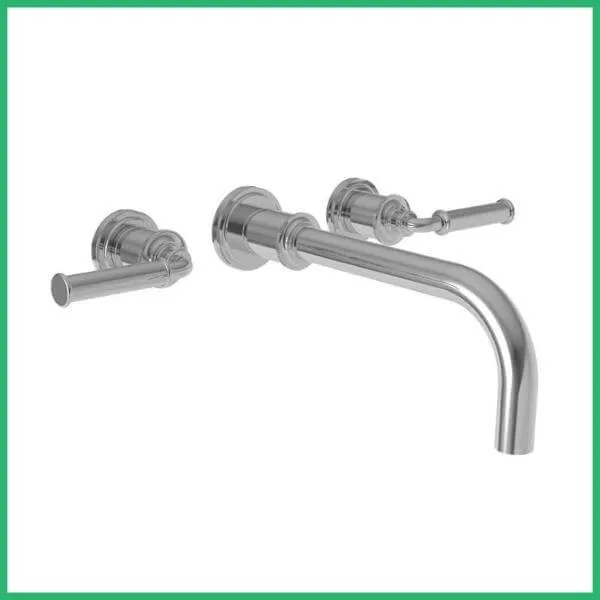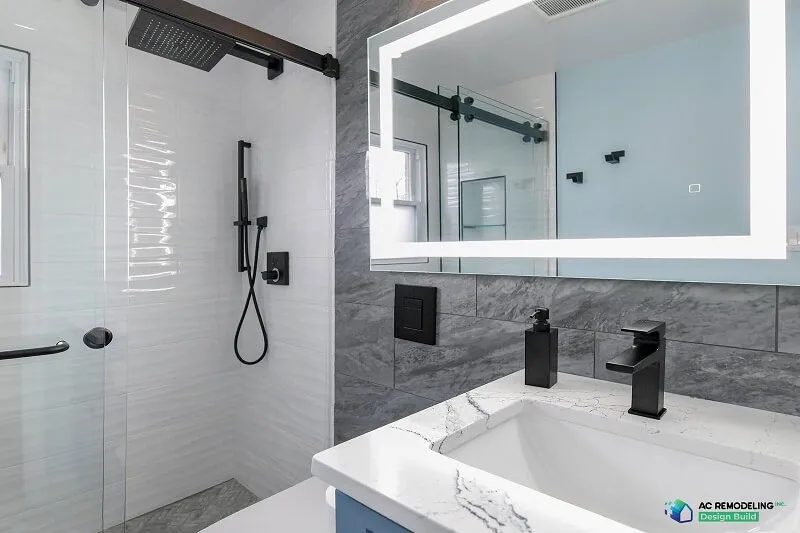 Founded in 1901, Hansgrohe Group has become one of the leading manufacturers of high-end bathroom faucets, showers and shower systems, kitchen faucets, and kitchen sinks. For the 120-year history of Hansgrohe Group, 2021 was its most successful financial year.
The brand is distinguished by its exceptional quality standards, innovative features, and award-winning product designs. For its product designs, Hansgrohe has collaborated with luxury brand AXOR and world-renowned designers, such as Philippe Starck, Antonio Citterio, Jean-Marie Massaud, and Barber Osgerby. In collaboration with AXOR, they design and manufacture iconic products for luxurious bathrooms and kitchens.
Bathroom Products from the Hansgrohe Brand
With Hansgrohe products, your bathroom will be more comfortable and luxurious. Explore Hansgrohe's wide selection of bathroom products and discover expressive style collections, innovative design, and valuable functions.
Hansgrohe's Vivenis line of faucets offers a new way to feel and enjoy the water. The wide, lush spray pattern looks like a natural waterfall and feels good to the touch. Even something as simple as washing your hands becomes a brief moment of pleasure.
The Advantages of Vivenis Upscale Faucets
The flat, ergonomically shaped handle is inviting to touch and easy to use.
The faucet's elegant design blends perfectly with the water flow.
Available in three finishes for individual styles in the bathroom: Chrome, Matte Black, and Matte White.
The air-enriched waterfall jet engineered by AirPower technology provides an unparalleled sense of well-being.
With its minimalist design and maximum flexibility, the Finoris lavatory faucet is tailored to meet the demands of a large family with diverse needs. It makes bathroom routines much more convenient because it is a pull-out spray with two spray modes. Fans of linear design will surely love this new faucet from Hansgrohe.
What Makes Finoris a Good and Sustainable Choice
It fits into any sink, giving you plenty of space, ease of use, and less splashing.
Available in Matte Black and Matte White, they allow you to add a modern touch to your bathroom sink design.
Powered by Hansgrohe's eco-friendly EcoSmart technology, it can help you reduce your water consumption to five liters per minute.
It has four incredible features that make it highly flexible and perfect for all routine activities in the bathroom: the pull-out spout, the water volume and temperature, and the two spray modes.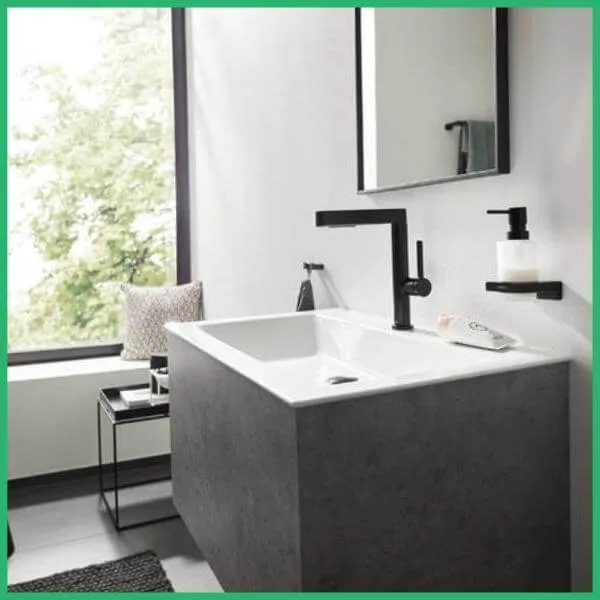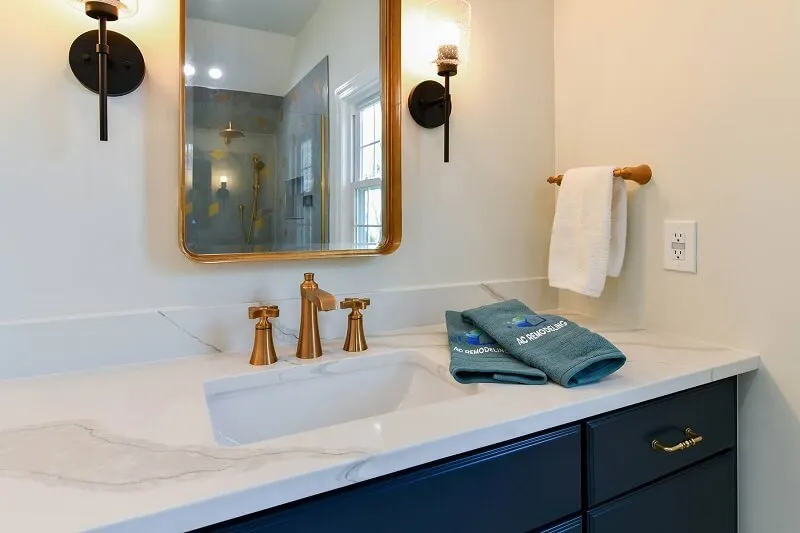 Moen Incorporated is the leading manufacturer of single-handle faucets, the market leader in wholesale sales, and the top faucet brand in the North American market. Moen faucets are renowned for their quality and elegance and have been branded as the "Cadillacs" of the industry.
In addition to faucets and bath fixtures, Moen also makes bathroom accessories like shower curtain rods, toilet paper roll holders, and towel bars. Moreover, the company manufacture faucets and bathroom fixtures for the multifamily market under the brand name Cleveland Faucet Group (CFG).
Moen's Best Luxury Bathroom Faucet Collection
Moen's extensive line of bathroom faucets includes single-handle, two-handle center sets and widespread and wall-mounted designs.
Taking inspiration from nature, the Adler design is simple yet chic. The Adler collection has an ageless yet fashion-forward presence thanks to its sophisticated, relaxed, and uncomplicated style features. This luxurious collection fits in perfectly with today's modern lifestyles.
With its art-deco-inspired blend of vintage design and classic lines, The Boardwalk collection offers homeowners high-end bathroom faucets, showering products, and accessories to create a stunning look in the bath.
The Caldwell Collection offers a classic bathroom option with its soft curves and intricate details. This collection is timeless and fashion-forward due to its graceful and simple design features. It is available in a striking, reflective Chrome finish that complements any design aesthetic.
The Hensley suite's updated traditional style is derived from angular forms with softly rounded edges. The Hensley collection is an exercise in design balance, being both elegant and casual, and this lustrous collection complements contemporary lifestyles flawlessly.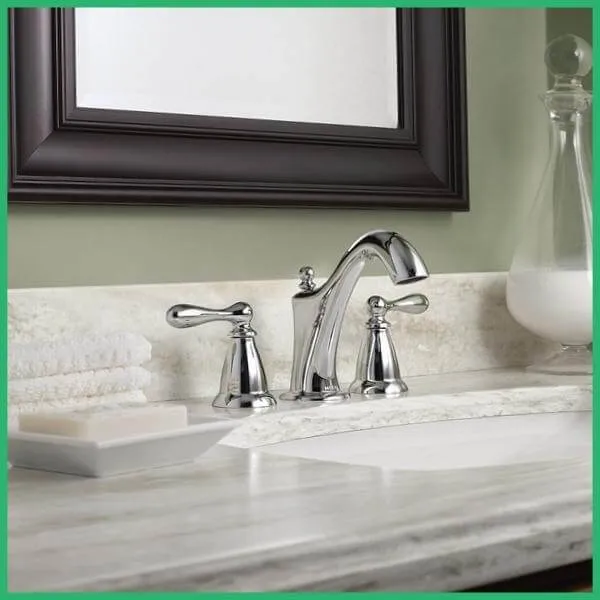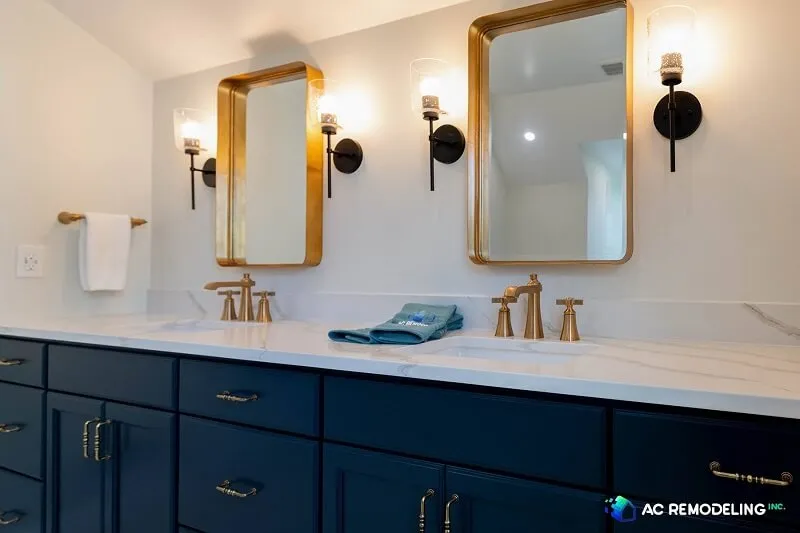 GROHE is a leading global brand for complete bathroom solutions and kitchen fittings. Grohe is a German company with headquarters in Germany, so you can trust that their products are made with good old German engineering and manufacturing techniques.
Each GROHE product is built on the brand's core values of quality, innovation, design, and sustainability. Grohe faucets have expanded their designs since their launch on the market. The company also promotes its no-touch kitchen faucets, which can be activated with the sensor on your foot or wrist.
Featured Bathroom Faucet Collections
The GROHE bathroom faucet collection uses industry-leading technology to provide an idealistic aesthetic in the bathroom. The brand brings an elegant sense of style to the bathroom with many designs and finishes for a custom look in the bathroom, including modern, contemporary, and traditional silhouettes of varying heights and dimensions.
The Allure Brilliant Collection features crisp planes, intriguing angles, and cut-out details. This collection exemplifies the absolute precision that can only be achieved through years of experience and an unwavering passion for innovation. Allure Brilliant exudes architectural appeal with its gem-like quality and structured shape.
If you like a sleek, tailored look in your bathroom, then the Eurocube collection is your best choice. This collection includes faucets with a perfectly square design for the lavatory, shower, and bath. Throughout the collection, cut-out detailing on the lever handles reduces the perceived volume of each piece while emphasizing the collection's minimalist appeal.
The Essence collection exemplifies minimalist beauty in its purest form, which inspires relaxation and contemplation. From the sink's timeless elegance to the two-piece toilet's smooth profile, the Essence collection transforms an ordinary space into a luxurious retreat. The upscale bathroom faucets in this collection are available in GROHE Starlight Chrome, Brushed Nickel, Polished Nickel, Hard Graphite, and Brushed Cool Sunrise.
Designed after the arc, the GROHE Plus Collection is solid and lightweight. By combining the curves of a circle and the sharp, clean lines of a cube, GROHE Plus creates an architectural silhouette ideal for modern bathrooms. This innovative line of unique and expensive bathroom faucets is designed to offer a new level of ergonomic comfort and practical function.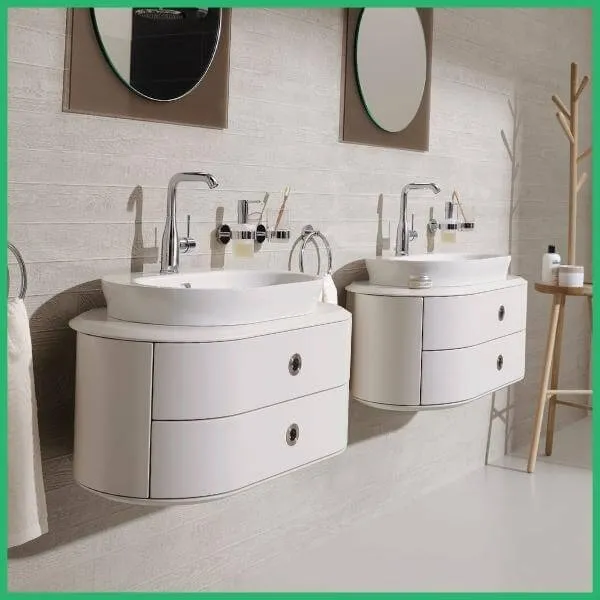 Signature Hardware has been in business since 1999, offering unique accents and memorable statement pieces for every room in your home. The company takes pride in providing products that are not only beautifully crafted but also durable. The company sells bathroom products, kitchen sinks, kitchen drains, utility sinks, door accessories, door hardware, lighting, and outdoor products.
Bathroom sink faucets from Signature Hardware adhere to the Safe Drinking Water Act's lead regulations (SDWA). They are safe to use, as required by law, and go through a rigorous testing and inspection process before selling them.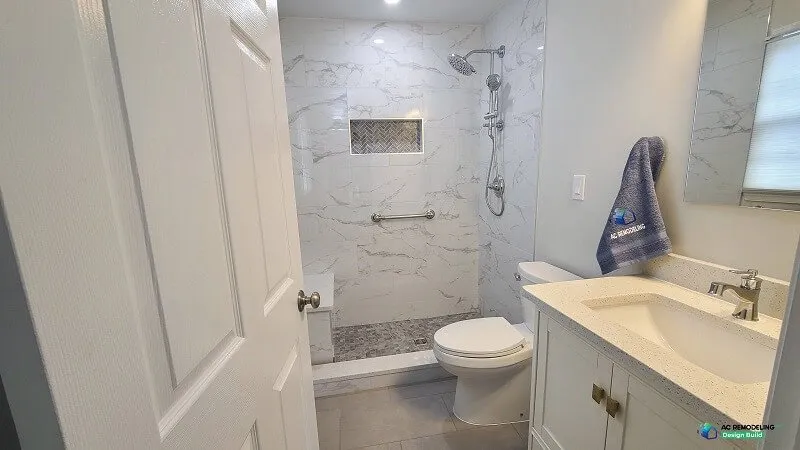 Signature Hardware Best Luxury Bathroom Faucets
You'll love the vintage look the Beasley Widespread Faucet brings to your bathroom. Its pair of tall lever handles are decorated with traditional embellishments, which carry over to the hook spout, adding to its classic charm. As part of its premium design, Beasley's solid brass hardware features a tarnish-resistant finish. A matching sink drain is included, actuated by a lift rod on top of the spout.
The captivating design of this Bathroom Faucet with Pop-Up Drain makes it the ideal centerpiece for your bathroom. This solid brass product, whose design was inspired by industrial steam pipes, has sleek wheel handles for controlling temperature and water flow.
This high-end bathroom faucet combines traditional and contemporary design elements. The solid brass construction and corrosion-resistant finish ensure that this product will retain its beauty for a long time. To complete the look, a matching pop-up drain is included.
This Single Hole Bathroom Faucet is ideal for replacing a center-set faucet. It includes a deck plate to support its single-hole design and conceal any previous drill holes. Its brass body is corrosion-resistant, and a ceramic disc cartridge prevents leaks. A detachable aerator prevents splashing and allows you to choose between a smooth or knurled texture to suit your personal taste.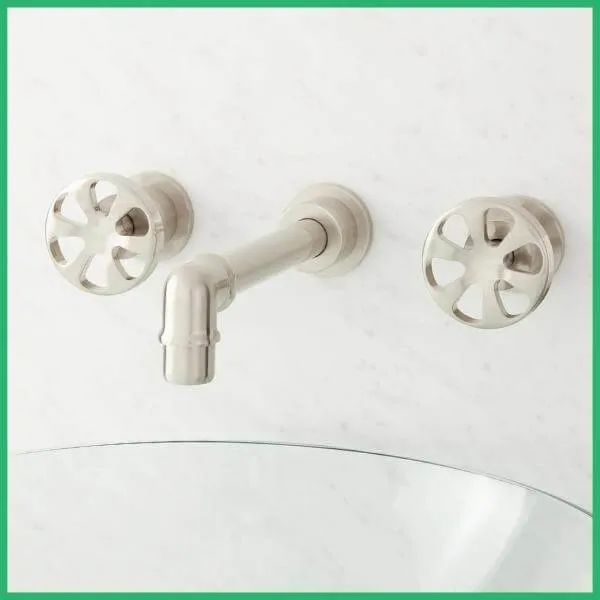 Final Thoughts
Bathroom faucets are available at hardware stores, lumberyards, home centers, and showrooms for bath remodeling. Another source to consider is plumbing wholesalers. However, regardless of where you buy, make sure only to purchase the best brands of luxury bathroom faucets.
Sticking with reputable brands such as Rohl, Newport Brass, Hansgrohe, Moen, Grohe, and Signature Hardware guarantees that you have purchased a quality, long-lasting product with easily accessible replacement parts for any future repairs.