There are many reasons to consider a bathroom without a tub for your next home remodel, both for master bathrooms and en-suite additions to other parts of your home. For example, you may want to:
expand your bathroom to keep pace with a growing family
enhance your home gym or mudroom with an added shower
age in place or help your older family members age in place with an accessible bathroom for an in-law suite
make showering easier and more convenient
avoid the hassle of cleaning the tub 
If your master bathroom needs an update for whatever reason, talk to us at AC Remodeling. We have helped homeowners with their bathroom remodeling for over ten years. We know how to preserve the unique character of historical and family homes, and we keep pace with modern trends that add value, style, and marketability to contemporary homes.
Ideas for Designing Your Master Bathroom Without a Tub
Master bathroom renovations add considerable value and functionality to homes. They have more space for larger showers, double vanities, and other amenities that make daily life more enjoyable. 
There are many ways to achieve a master bathroom layout without tub installation. The first decision you will likely have to make is whether to include a shower or make a half bath. One of the most important factors is the functionality of your bathroom. Do you need a place to shower, or would extra floor space or storage add more value for you? 
The following examples each have walk-in showers instead of a full bath, but you could easily adapt them to a half-bath layout for other parts of the house. As you consider each option, think about what role the bathroom will play in your day-to-day life:
Is it an en-suite bathroom or standalone in the house?
Is it for general use or primarily for guests or family?
Does the design or functional layout complement other rooms in the house? 
The example pictures are only illustrative of master bathroom ideas without a tub and do not reflect all the options available to you at AC Remodeling. If there's anything that you don't see in the pictures or the descriptions, please let us know.
1. One With Nature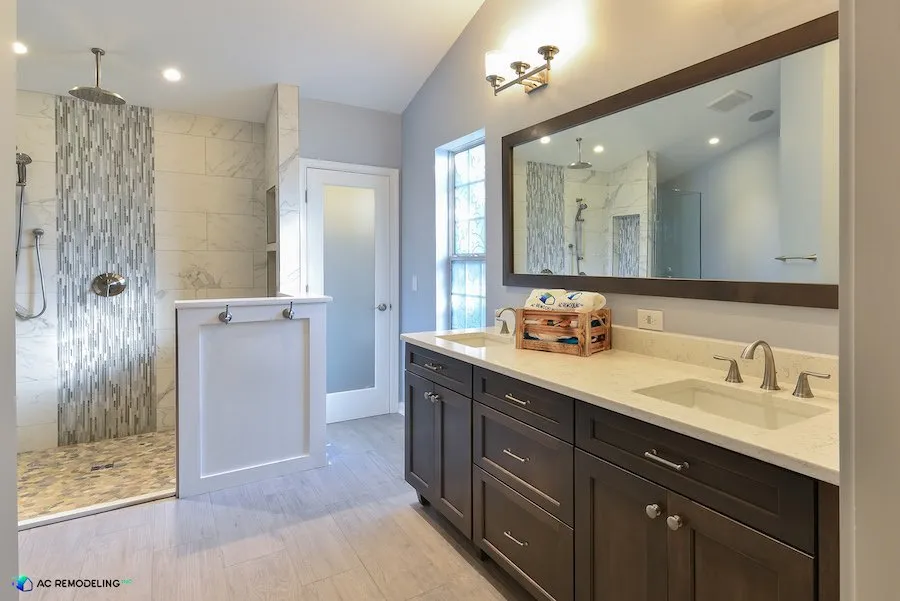 Having a shower stall instead of a tub gives you open space and freedom of movement. Close your eyes and imagine yourself in a cooling, gentle rain on a warm summer night. Now open your eyes and imagine yourself surrounded by nature. 
A bathroom remodel with large windows lets in diffused natural light and creates a tranquil ambiance that will wash away your cares as soon as you step inside. We could design your bathroom to reflect many outdoor themes, with forest, sky, or beach designs. Then you can coordinate your towels, mats, and other accessories to reinforce your theme.
2. Relax in Elegance
Some people find it difficult to imagine a luxury bathroom without a tub for relaxation. A luxury shower with marble tile and luxury accents gives you the high-class experience of a spa or glamorous hotel. Or get a clean look and avoid dust mites, pollen, and mold by using low-maintenance porcelain tile.
If you would prefer to sit and relax, add a custom shower chair with a handheld showerhead to give yourself a place to relax without feeling cramped like this Potomac, MD Bathroom Remodeling project we completed.
3. Sleek and Steamy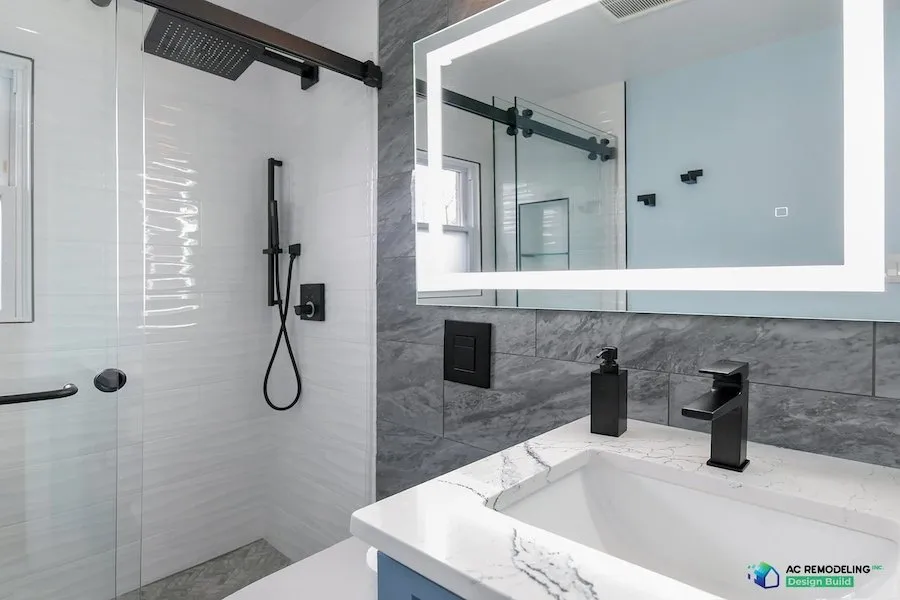 A modern shower design with an open layout gives your bathroom a spacious, inviting look. Your sleek, custom design, together with the right accessories, will make your guests wonder if they're in an upscale country club or VIP suite. Why not complete the look with durable quartzite countertops. 
Modern technology can accompany our bathroom designs, for example enjoying a steam shower with modern adjustable showerheads. Quality materials will give your bathroom a bold look that will energize you each time you start your day. Saving water with efficient showerheads and a low-flush toilet is also an option.
4. Stately and Serene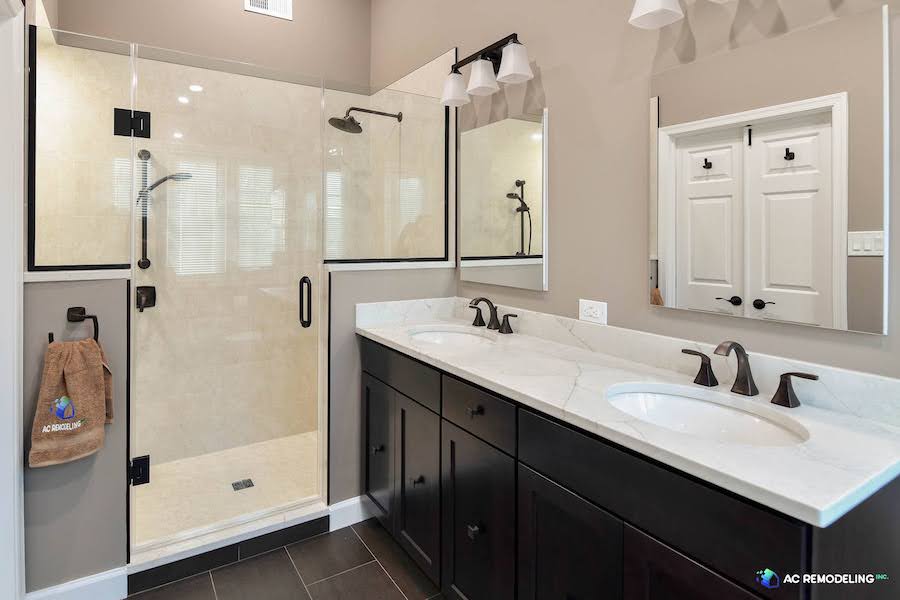 Every visit to the bathroom is a break from the everyday routine. A traditional design theme with modern, durable tiles and fixtures will help you set aside your daily worries and reflect on the timeless aspects of life. Modern life gives us so few opportunities for quiet contemplation, so why not create a design that relaxes you and focuses your mind? 
Don't forget to incorporate sculpture and art that inspires you when you finalize your design scheme. Some people find that sand and rock sculptures help them find inner tranquility. What relaxes you the most?
5. Twenties Tech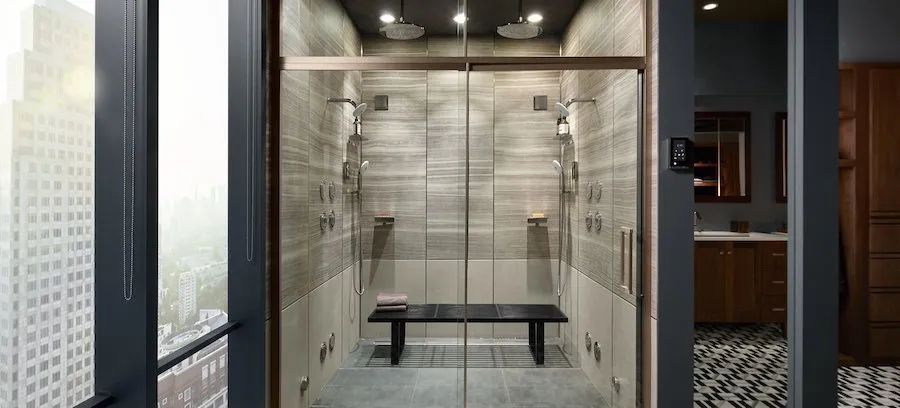 The 2020s are just gaining steam. Embrace the future with a smart bathroom that safely and seamlessly incorporates the latest smart innovations such as:
Voice control of lights and showerheads
Music while you shave, shower, or brush your teeth
The ability to stay connected with a smart TV
Integration with your home WiFi network
6. Multi-Generational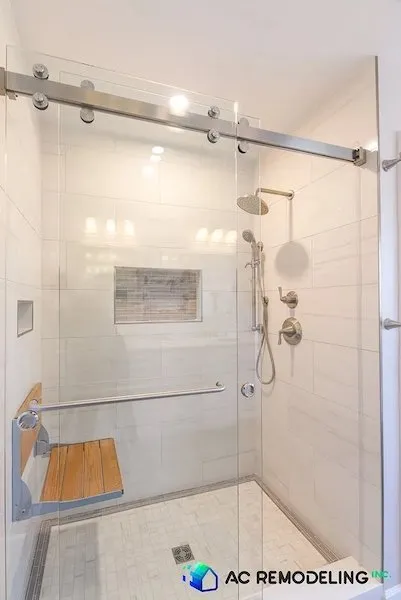 Create a custom bathroom that accommodates the needs of family and friends of all ages. You could incorporate everything from a changing table for infants to grab bars and an accessible walk-in shower for individuals with mobility needs. An expansive layout with floor space allows larger families to share the bathroom with ease.
7. Reclaimed Radiance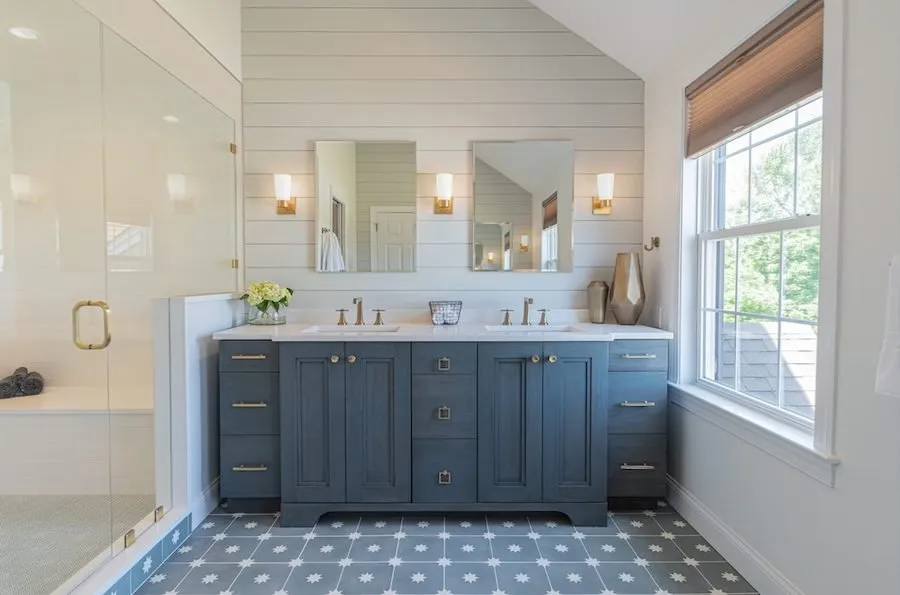 Take any of our inspirational bathroom designs and make them your own by using reclaimed materials. The extra visible wall space on our popular bathroom layouts provides ample space to showcase design elements that bring back memories of family homes, vacations, weddings, and other milestones in life.
How AC Remodeling Gets Projects Done on Time, the Right Way
A Streamlined Design Process
In the 13 years since we founded AC Remodeling, we've developed a way of structuring our design and construction phases so that the new bathroom we create is as close as possible to what you envisioned. We take the time to understand your vision before we start construction. You'll have plenty of time to talk to our design team and construction crew throughout the process.
Measure Twice, Cut Once
Our commitment to precision and our attentiveness to our customers is the reason we can proudly offer a satisfaction guarantee. Before we make any changes to your bathroom, we ensure that they are exactly what the design plans call for and precisely what you want and expect. If we surprise you, it will be by exceeding expectations with innovation and skill.
3D Bathroom Design
Sometimes, you don't know whether a bathroom layout or design will work for you until you immerse yourself in it. Our state-of-the-art software allows us to create a detailed three-dimensional representation of the completed bathroom so that you can see how your project will turn out in a virtual walk-through.
Develop Your Master Bathroom Without a Tub Ideas
We hope that these designs inspire you to reimagine your bathroom without a tub in the master. We look forward to the chance to help you throughout the process. Removing the tub can free you to consider different layouts and use the space you have more effectively. 
In addition, a bathroom remodel can boost your home's resale value. We know what today's real estate agents want to see and what will wow potential buyers. We also know how to develop unique layouts and designs that give our customers a feeling of ownership and personal connection to their living spaces that can last for generations. 
If you've decided that you don't need a tub in the master bedroom, call us today at  (240) 632-1660. We look forward to hearing about your plans for a master bathroom without a tub, and we encourage you to share this article with your friends and family if you liked it!